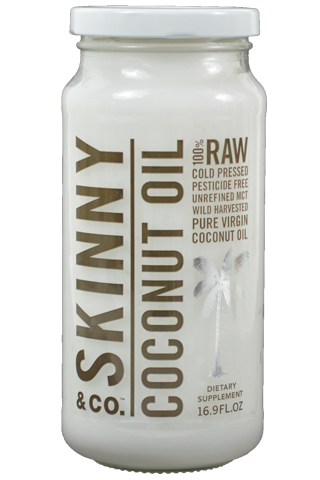 It's organic and pure for your most radiant self!
Skinny Coconut Oil is grown from the abundant and untouched jungles of Vietnam. The oil creates a relaxing sensory experience with its light fragrance, smooth texture, and creamy white color. It is an all-natural, pesticide-free, and 100 % pure product that provide you with optimal health. You can use it both internally and externally for a more radiant self!
The Skinny Difference
Unlike most coconut oils available on the market, Skinny Coconut oil is never heated above room temperature and goes through a slow and mindful manufacturing process (it requires double the coconuts used to fill the 16.9 oz jars!). This quality-controlled process retains the natural flavor and aroma of the coconuts, unlike other oil products that often have a rough texture, are bleached, and have an overpowering smell.
Benefits of Skinny Coconut Oil
Ignites your metabolism. Due to the high concentration of MCFAs, Skinnyspeeds up your metabolism. These MCFAs are converted to energy, aiding healthy weight-maintenance.
Clears your mind. Coconut oil is made of an alternative form of brain fuelknown as ketones, encouraging optimal bran functioning and clarity. They are also neuro-protective, which leads to improved memory, cognition, and attention.
Protects your heart. The healthy saturated fat in Skinny protects heartcells, improves functions of the thyroids, and helps normalize cholesterol levels.
Boosts your immunity. The special fat in Skinny called lauric acid helpsform the immune system and protects the health of newborns. It is also a proven tool to effectively treat HIV.
Maintains your blood sugar. The MFCAs in Skinny help promote insulinand blood levels. It provides naturally long lasting energy and is much more effective than sugars, grains, and carbohydrates.
Promotes radiant skin. Coconut oil provides essential enzymes and acidsthat heal wounds, reduce acne, decrease effects of aging, and promote healthy, glowing skin. Rub gently on your skin and watch it shine!
Easy to digest. Coconut oil can be easily digested by anyone with stomachor intestinal problems.
Uses of Skinny Coconut Oil
Bathe – Add a generous scoop of coconut oil to a bath to soak in its moisturizing benefits.
Oil Pulling – This is an Ayurveda practice that requires you to swish a tablespoon or two of coconut oil three to 10 minutes today. It is believed to whiten your teeth, improve skin, and get rid of toxins.
Moisturize- Swap out your moisturizer with coconut oil and say hello to baby soft skin.
Acne Treatment – After rinsing your face regularly apply a thin layer of coconut oil to your skin to decrease acne related inflammation.
Anti-age treatment – Put a little on your finger to rub under your eyes and say adieu to wrinkles.
Get rid of lice – After rinsing your hair in apple cider vinegar, let it dry, and smooth coconut oil through the strands. Let it sink in for 24 hours, comb it out in the morning and then rinse your hair.
Treat cold sores - Rub some coconut oil on the sore spot—the oil's antiviral properties may treat blisters.
Eat it - Thanks to the versatility and delicious flavoring of coconut oil, it has become a "must-have" for chefs all over the world. Coconut oils are often used in salad dressing, stir-fry, smoothies, and as a substitute for butter in various dishes. You can also swallow it whole to experience a slew of health benefits.