EcoFresh
General purpose pouch for the home of office environment.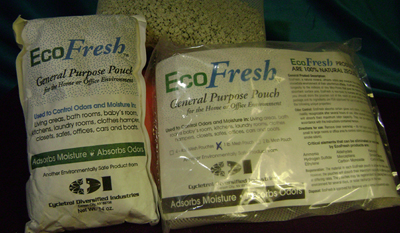 Used to control odors and moisture in: Living areas, bathrooms, baby's room, kitchens, laundry room, clothes hampers, closets, safes, offices, cars and boats.
Eco Fresh Products are 100% natural Zeolites
General Product Description: EcoFresh, a natural mineral, attracts odors and moisture thus cleansing the immediate environment of their odoriferous effects. EcoFresh owes its unusual longevity to the millions of tiny Micro-Pores that give the material a greater absorbent surface area. EcoFresh is non-toxic to humans and pets, however you should store the pouches out of the reach of small children. The total package and its ingredients are FDA approved for use in and with food. It has the following unique properties:
Odor control: EcoFresh absorbs certain gases and odors. Control of odors is readily recognizable after several hours of use. After extended us pouches will absorb their maximum odor capacity. They can be regenerated in accordance with the instructions contained hereon.
Directions for use: Remove clear overwrap- do not open pouch. Place in small to large rooms or office area to control odors and moisture (especially smoke odors).
Critical elements that can be eliminated or reduced by EcoFresh products are:
Ammonia Aldehydes, Ketones
Hydrogen Sulfide, Mercaptans, Smoke Odors
Ethylene, Carbon Monoxide, Carbon Dioxide
Absorbs Moisture & Absorbs Odors!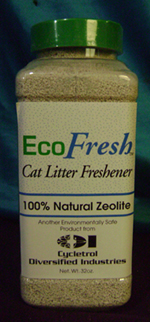 Regeneration: The material in each EcoFresh pouch is active for many years. However, the pouches will absorb their maximum capacity in odorous gases at differing rates. The pouches may be regenerated by placing them in a dry environment for several days, or solar recharge in the sun.
Disposal: EcoFresh is approved for disposal with normal household waste.