auras, aurashikha, incensehika
Last Updated: 4/4/11

Shop Our Online Store:

Since 1980!

Momentum 98
Natural Health Store

Taking Advantage of the Moment!




Propelling Yourself into Greatness!
AUROSHIKHA INCENSE
made in INDIA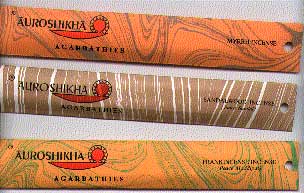 Myrrh, Sandalwood, & Frankincense Incense 10 gram packs
comes in over 40 fragrances...


10 gram pack Frankincense Incense - Actual size
AUROSHIKHA INCENSE
For Deep, Effective Stimulation of sense of smell.

AUROSHIKHA INCENSE SAMPLER PACK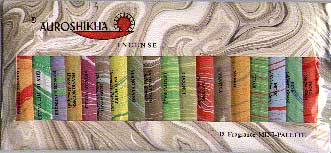 18 Fragrance Mini-Palette
$5.99

10 gram packs available in the following fragrances:

---

African Violet
Almond
Amber (Mira)
Amber Essence (Emerald)
Cedar
Cinnamon
Coconut
Frangipani (Perfection)
Frankincense (Peace Maddipal)
French Lavender
Gardenia
Geranium (Joie du Soleil)
Honeysuckle
Hyacinthe (Jacinthe D'Avril)
Jasmine (Purity)
Lemongrass

Lily of the Valley
Morning Dew
Musk (Krishna)
Myrrh
Orange Blossom
Oriental Bouquet
Patchouli (Singapore)
Pine (Almora Breeze)
Rose
Rosemary
Saffron Spice (Lumiere)
Sandalwood (Indra Sandal)
Tea Rose
Vanilla


White Lotus


Ylang Ylang

The following fragrances are currently unavailable:

Champa
Floral Blend (Song of Bengal)
Magnolia
Passion Flower
Raspberry

Sitar (Herbal Blend)
Song of Bengal (Floral Blend)
Strawberry
Tuberose
Vetiver

---
---
go to blue pearl incense page
---
How To Purchase Items
Click the Add To Cart button beneath the product description to purchase the item. A shopping cart will appear on the right side of the screen. You can continue to add items from different pages on our site, then when you are ready to check out simply click on the cart icon, and click Checkout.


Contact Momentum98.com to purchase any item that does not have an Add To Cart button. You can purchase the item by email at

moment98@gmail.com

or by telephone at

614-262-7087

.


Read our terms and conditions of sale.
Code

Product

Size

Fragrance

Price
6 or More
SCE
Auroshikha Incense
10 gram pack

$1.95

$1.75

SCE
Auroshikha Incense

not available



15 gram pack



$2.39

$2.00

SCE
Auroshikha Incense

not available

25 gram pack



$3.39

$3.00

SCE37
Auroshikha Incense Sampler

18 Sticks

18 Fragrances

$5.99

$4.99