THE ORIGINAL PHEYLONIAN
BEESWAX CANDLES
---
100% Pure Cappings Canadian Beeswax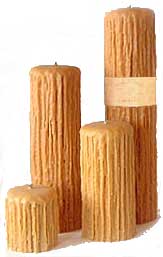 Hand Dripped Style

PURE BEESWAX...
~ is non-toxic and non-allergenic
~ produces negative ions which clean the air from dust,
odor, toxins, pollen, mold, dust mite feces and viruses.
~ cost only pennies an hour to burn.
~ burns with a golden halo while exuding a natural aromatic
honey essence.
~ has been proved to be beneficial for people who have allergies, environmental sensitivities and just too much stress in there life.


Pheylonian Beeswax Candles come in 3 colors:
gold, butterscotch & dark brown.

Pheylonian beeswax candles come wrapped in a decorative and informative label which has the complete instructions on being a 'Beeswax Candle Master'. Inside each label is an enlightening tale of the historic and modern uses of beeswax, along with the healthful benefits derived from burning Pheylonian Pure Beeswax Candles.

Why are Pheylonian Candles so good ?
The origin of these non-toxic, ion-producing Beeswax Candles goes back to the earliest of civilizations. In this century, it was a family craft passed down to the owner of the company from his Ukrainian Baba (Grandmother). After 50 years, they still hand-make all of the wicking, as well as hand-drip each candle, which give them a unique appearance and burnability.

Beeswax vs. Paraffin
Beeswax is a wonder of Mother Nature Herself. It is non-toxic, naturally aromatic, is completely healthful and produces the most conductive ion known to humanity. Pure Beeswax costs only pennies an hour to burn compared to paraffin which costs upwards of a dollar an hour because it burns away so quickly. Beeswax burns with no smoke, while paraffin burns with a black soot that coats your walls, household furnishings and curtains, not to mention your lungs.
---
---