BODYSLANTS
BODYSLANTS
ARE BACK IN STOCK

---

We have been inundated with people wanting bodyslants. We are pleased to announce that We now have them in stock.
We will always match prices, but we don't expect anyone to be able to have a better price than us.
You will probably find everyone selling the BodySlant at the same price.

Prices have increased (pretty much $100 on the Einstein, and enough on the Newton as well).
The main thing to be concerned about is that the product is certainly worth what we sell it for.
We have to forget about old prices, and realize what a wonderful product the bodyslant is.
We have been selling it for a long long time, and we are educators. We have it in our home, and we use it.

I have decided to resurrect some of the old literature on the body slant, where it is being endorsed
by some pretty heavy hitters in the holistic health community.
People like BERNARD JENSEN & DR. JOHN CHRISTOPHER.

You can call us on the phone to order, or you can order it below. You will be pleased with your purchase.


---
A Note From Phil Wilson
Owner of Momentum98
Take a look at Gravity's toll on the human body: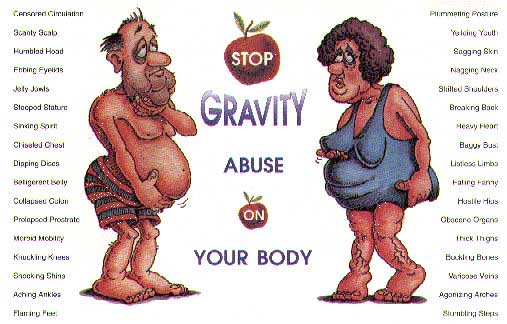 The BodySlants can help reverse the effects of Gravity:
Boosts your well-being
Elevates your legs & feet
Shapes-up your abdomen
Heightens your posture
Raises your circulation
Stretches your neck & back
Lifts-up your complexion
Soothes your mind & brain

Relaxing on your BodySlant for just 5 to 10 minutes before or after any mental, physical or emotional activity will make you feel unbelievably rejuvenated. Resting on your BodySlant anytime you feel rundown is one habit you will really enjoy. You can fall asleep on the Bodyslant.
---
BODYSLANT
NEWTON MODEL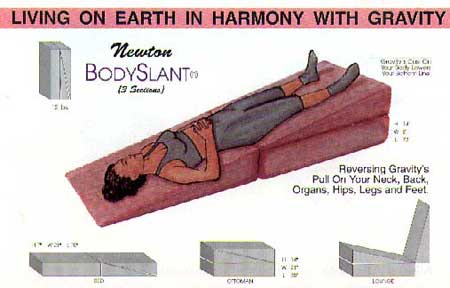 BDS02 - Beige
BDS03 - Navy
BDS08 - Green

The length is six feet and the width is 21 inches.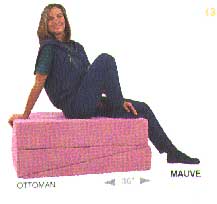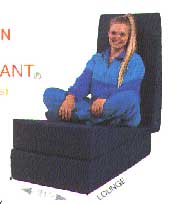 ---
---
BODYSLANT DELUXE
EINSTEIN MODEL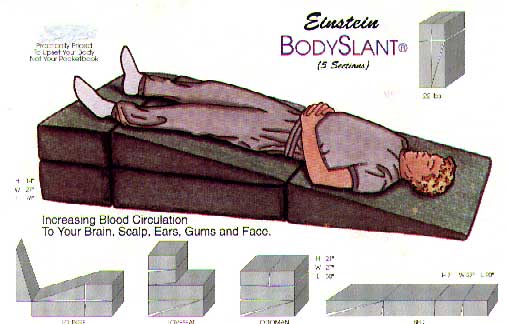 BDS12 - Beige
BDS13 - Navy
BDS18 - Green

The length is six feet and six inches & the width is 27 inches.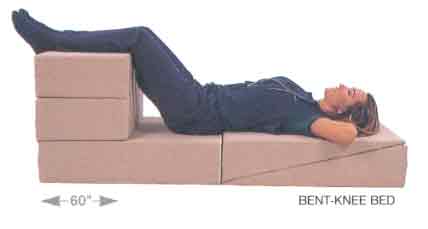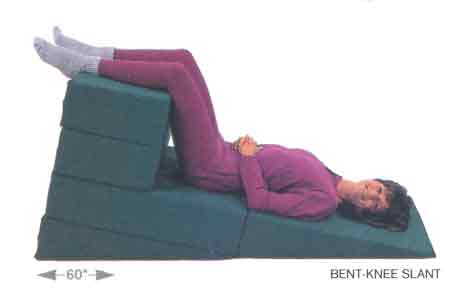 ---
---
INFLATABLE
AIRSLANT
BDS21
14 to 16 inch slant inversion height.
Hand press inflatable with built in pump. Simple to store, carry, and inflate! Velvet No-Slip Top / Smooth Bottom
Includes a 1 year warranty on material & Craftsmanship
Includes a carry case, easy to take anywhere
Quality Material and Construction. Made of environmentally friendly TPU 
Odorless and free of harmful phthalates and PVC. TPU is more abrasion resistant, durable, and lighter than PVC
Color:Lime with dark green top
---
---
INTERNET SPECIAL
DISCOUNTS ON BODYSLANT PRODUCTS
*WE MATCH PRICES*