FOLDING CHAIRS

AND BACK SUPPORTERS
---
Select A Product:
---
---
LAFUMA CHAIR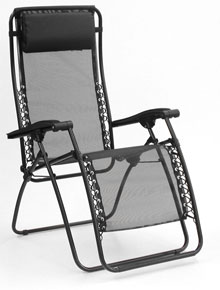 LAF01
Lafuma Recliner Black Mesh

Adjustable headrest, quality recliner featuring progressive adjustment from a sitting to a reclining position and may be locked into any position with the convenient Ergonomic lever lock system. Armrests are padded and contoured to fit the shape of your arm and adjust to every move of the seat.

Folded Size: 38 x 27 x 7 (inches)
Item Weight: 17 (pounds)
Supports: 250 (pounds)
---
---
THE KARMA CHAIR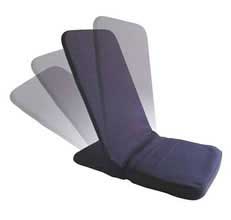 REL02B

The chair that goes anywhere. Whether at home or at the park, the Karma Chair offers seating comfort and back support. There are multiple angled backrest seating positions, from upright to a comfortable 'laid back' angle. With a high density foam padded seat, it's a comfortable and personal way to sit with friends and family. The perfect chair for deep contemplation, chanting or meditation.
---
---
---
---
THE BACK-UP
NADA CHAIR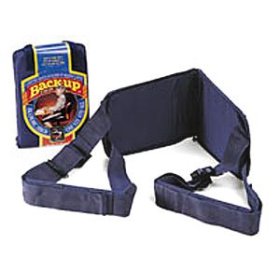 INADA - 8" by 12"
Includes accessory cush-shins & stretch straps.
Ergonomic Design
One size fits all
The Nada-Chair is the chair that you wear. This slouch-busting sling lets you sit comfortably for hours with effortless good posture. When you sit forward, the back support follows. Since the Nada-Chair follows your body with every move, you constantly enjoy firm, adjustable and dynamic support hugging your low back. "The Nada-Chair acts like an extra muscle that never tires," explains Arthur White, MD. By using the knees to stabilize the pelvis, muscles are relieved of their isometric tasks. The pelvis becomes a stable pedestal on which the spine can effortlessly rest with natural curves restored.
---
---