HEAD MASSAGERS
HEAD TRIP & TING TING
---
Ting Ting

MAS794 - Ting Ting
This is pretty much a battery operated version of the Head Trip
(By a DIFFERENT COMPANY)
Ting Ting - What it Can do !
The Ting Ting is a motorized battery operated head massager made of pure copper legs
and treated ends that have been designed to make you tingle all over.
The sensation has been described as "orgasmic".
It has also been said that it "makes my body shiver with pleasure."

Fun for the Whole Family !
You will be a hero if you take this along to the office, parties or even on a date.
Some consider it one of the most pleasurable head massagers you can take anywhere.
They say that the Ting Ting can gently stimulate millions of nerve endings on the scalp
as well as acupressure points that create tingles, shivers & more from head to toe.

Instructions
You need to form the copper legs so that they surround the entire head,
gently bending each leg in a semicircular shape. Make sure the ends of each legs are
evenly spaced, facing down to the ground or scalp when holding it.
The Ting Ting has a battery storing handle and a motor.
You can choose to either "turn on" the motor for a stronger sensation, or ...
Use it in the traditional manner, without motor for a gentler massage.
Whether motor is on or off... Place the long copper wire tendrils over the head
(from the back of the head) and come down toward the front of the neck.

See if you can find the Ting Ting in the picture Below ?

(The Ting Ting is in the bowl on the right, in front of the painting.)
As you see, The Ting Ting can also be used to decorate your house and create an artistic setting.
If you Experiment with the Ting Ting, you will find that its uses are too numerous to mention !

MAS794 - Ting Ting w/Batteries - $24.95 / $22.95 each for 2 or more
Remember, we always match prices !
---
---
HAPPY'S HEAD TRIP
(aka Happy's Head Massager)
MAS791 - Head Trip
Made out of copper and packaged in a red heart-shaped soft velvet-like pouch.

The Head Trip massages pressure points and nerve endings on the head and scalp.
It helps to eliminate stress and tension.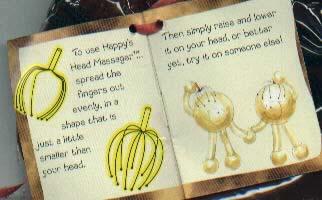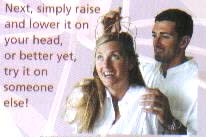 Instructions:
- As it shows in the brochure that comes with the Head Trip -

Open up you package and spread the fingers out evenly in the shape of a "head."
Then simply raise and lower the Head Trip on to your head, or a friend's head.
It will send tingles down your head and your spine.
A Note From Phil Wilson
Owner of Momentum98
This massage tool is a trip, for sure !
When we do expos, it is always one of our best sellers.
People get excited about putting it on the head.

Because the Head Trip is made from copper, it can act with the electrical field around you to perform miracles. We don't make any claims. But we do know that it can make you very happy! That's why they call it Happy's Head Trip ! (It's a TRIP, for sure ! )
Suggestions for further uses of the Head Trip:

Try it on tired stressed out feet. Experiment with pressure, shape and technique. Or ... arrange fingers into a semi-circle, and use on back like you would a feather. Keep it with you at your desk or work place for stimulating thoughts and ideas ! Wherever you go, take it with you...

---
---