KOMBUCHA
---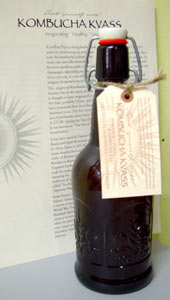 KOM15
Kombucha Kvass - Locally Made

Kombucha Kvass is a refreshing home-crafted beverage made with age old techniques. It is brewed using pure dual-filtered waters, organic green teas, organic cane sugar plus simple fermentation from a parent kombucha culture of symbiotic bacteria and yeasts.


The origins of Kombucha have become lost in the mists of time. It is thought o have originated in the Far East, probably China, and has been consumed there for at least two thousand years. The first recorded use of kombucha comes from China in 221 BC during the Tsin Dynasty. It was known as the "Tea of Immortality." It has also been used in Eastern Europe, Russia, and Japan for several centuries.

Kombucha is a living health drink made by fermenting tea and sugar with the kombucha culture. The result can taste like something between sparkling apple cider and champagne, depending on what kind of teas you use.

The Kombucha culture is places in sweetened black or green tea and turns a bowl full of sweet teas into a bowl full of vitamins, minerals, enzymes and health-giving organic acids. As the Kombucha culture digests the sugar it produces a range of organic acids, vitamins (particularly vitamins B & C), amino acids, and enzymes. Also, there are the benefits of the probiotic microorganisms themselves. The Kombucha culture is a biochemical powerhouse in your kitchen.

Many health claims are made for kombucha but there is less research on its benefits than on fermented milk products. In lab tests, it has been shown to have antibiotic, antiviral, and antifungal properties. When given to rats, it was shown to improve liver function. Testimonials have shown further benefits, including: raising energy levels, metabolic disorders, allergies, cancer, digestive problems, candidiasis, hypertension, HIV, chronic fatigue and arthritis.

(From
Kombucha Kvass
an information pamphlet by P.W.I. Personal Wellness Integrity of Columbus, Ohio)
A Note From Phil Wilson
Owner of Momentum98

This home brew of Kombucha, made locally here in Columbus, Ohio is a delicious, healthy drink that our customers can't get enough of! You won't believe how good it tastes and how good it is for you!

For more information on Kombucha,
this booklet by Danny Bravin tells it all...
including the origin , history, abundant benefits, where to get it,
and how to brew the tea yourself: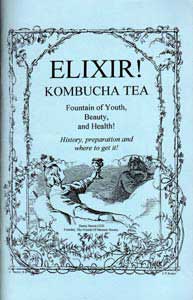 BK893
---
---