KROEGER HERBS
---
---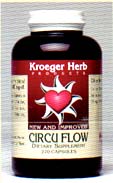 KRG05 - 270 caps
Since 1985 Circu Flow continues to be a leading supplement due to its significant effects on maintaining
healthy circulations. Now Circu Flow has been reformulated to include am impressive combination of ingredients
associated with healthy heart and arteries. Sustaining healthy levels of important nutrients is essential
for proper heart function. Our tried and true formula of hawthorn berries and equistum (horsetail)
has been augmented with vitamin C, taurine, arginine, chromium picolinate and selenium.
The beauty of Circu Flow, as with all our products, is how perfectly balanced the formula works with the body.
Founder anad master herbalist Hanna Kroeger is an expert at combining herbs in ideal proportions so the
full potential of the formula is realized by the body. Kroeger Herb Products has always been
a great source when it comes to high quility, reliable health products.
UNIQUE ADVANTAGES
**Circu Flow is processed under heatless, temperature controlled conditions, preventing any
denaturation of vital amino acids or other constituents.
**New, improved Circu Flow is the most potent, yet gentle formula available. It contains hawthorn,
horsetail, vitamin C, taurine, arginine, chromium picolinate, and selenium, all off which are known
for their improvement to arterial and vascular integrity.
**Circu Flow is made purly from 100% active, natural ingredients, without fillers or bulking ingredients.
---
---
OLIVE LEAF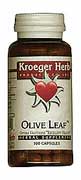 KRG10 - 100 caps

Olive leaves, like echinacea or goldenseal, are frequently used as part of good health. Made from Olive Leaves, Yarrow.
---
---
RASCAL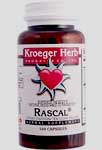 KRG02 - 100 caps
Rascal safely and naturally maintains your body's balance when unfriendly food brings on unfriendly visitors. Adequate food preparation and hygiene benefit this quintet of herbs. Made from Pumpkin Seed, Garlic, Cramp Bark, Capsicum, Thyme.
---
---
WORMWOOD COMBINATION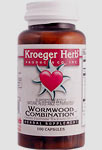 KRG01 - 100 caps

Kroeger Herb's best-selling Wormwood Combination is made from Black Walnut Leaves, Wormwood, Quassia, Cloves, Male Fern.
---
---
From the same manufacturer, check out Best Selling Clarkia-100 and LDM-100:






Go to the main Clarkia & LDM page

Clarkia-100 - Intestingal and liver formula. It is a unique handcrafted herbal tincture combining Green/Black Walnut Hulls, Wormwood, and fresh ground Cloves.


LDM-100 - Broad Spectrum Natural Plant Antibiotic. Botanical Source: Leptotaenia Dissecta
---
---