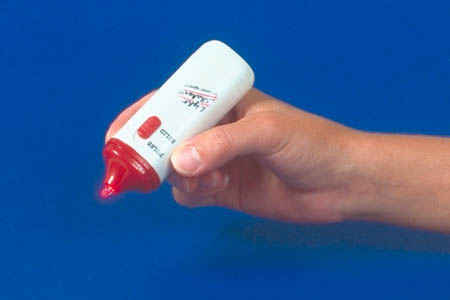 LIT01
A popular, hand-held portable healing device to relieve pain,
heal wounds and more!

* Our most portable and smallest unit contains a single LED with both a "solid" or "continuous"
setting for pain relief and a "pulse" (266 cycle) setting to accelerate recovery.
* It is powered by a 9-volt battery, which can last for 20 hours (approximately 4-6 months of use).
* The design is ideal for use on acupuncture points yet it is still powerful enough to be used
on the skin surface and for effective penetration of 1 to 2 inches beneath the skin.
* The small size (4 inches long and 1 inch in diameter) makes it easy to carry in a pocket or purse.
* Safe enough for children to use.
* Cannot be over-used.
---
---
How do I know these units work?
All these portable units have been used successfully by
* acupuncturists
* chiropractors
* physiotherapists
* massage therapists
* naturopaths
* other leading health professionals
They utilize safe, effective, and long-lasting Light Emitting Diodes (LEDs) in place of soft lasers, which emit 660 nanometers of red light. Since this is the frequency of light most compatible to human bodies, these lights provide the safety for anyone to self-administer them with ease.
They are designed primarily for:
* surface area coverage
* deep tissue penetration
* acupuncture point application

As explained in the instruction booklets, each unit has two settings:
1. "solid" setting for pain relief
2. "pulse" rate settings for accelerating the repair of damaged tissue and chronic conditions.
How Light Energy products safely speed up cell repair:
When the skin is injured by a bruise, cut or accident or the body becomes unbalanced by a cold, the flu or some other cause, the body begins its own healing process. One way to speed up this process is to apply a Light Energy device. When it is turned on, it triggers a healing process known as "photobiostimulation". The cells of the body have photo-acceptors that speed up the repair process.The only known kind of light that activates and accelerates this process is the single wavelength of light that emanates from a Light Energy device.

Relief indicated in preliminary research and clinical trials
with monochromatic light:
The following uses represent those problem areas where a significant number of proven results have been reported, as measured by clinical results, research techniques, and anecdotal or reported testimonies. Please note, that we are not making any claims for cures but rather giving you some ideas for educational purposes so that you can experiment on your own.

Here are some of the areas of frequently reported relief and healing:

* Pain Relief
* Ulcers
* Sinus Relief
* Accelerated Wound Healing
* Burns
* Relaxation of Muscle Tension
* Reduced Swelling
* Acupuncture Point Stimulation
* Food Allergies
* Reflexology Point Stimulation
* Emotion and Stress Release
* Eyes & Ears
* Headaches
* Facial Toning (wrinkle reduction)
* Arthritis
* Strengthening the Blood
* Asthma* Meridian Balancing
* Skin Conditions
* Improved Circulation
* Addictive Habit Reduction: (Tobacco, Food, Drugs, and Alcohol)
* Herpes
* Teeth & Gums
* Insect Stings and Bites
* Whiplash and Low Back Pain
* Sprains and Pulled Muscles
---
---
RESEARCH ON LIGHT THERAPY

In the past thirty years, research has demonstrated that cell tissue responds to certain single frequencies of low power light.
One of the most successful of these is 660 nanometers in wavelength, which is in the red spectrum. This type of light is
produced by both soft lasers (administered by medical practitioners) and light emitting diodes (LED).
LEDs are safe for adults, children and the elderly to self administer.

The light quanta (photons) are absorbed by the skin and underlying tissue, triggering biological changes within the body
in a process known as "photobiostimulation". There are molecules within the cells called photo-acceptors that, when activated, accelerate or speed up the cell repair process. These photo-acceptors can be activated only by a single wavelength frequency of light. Monochromatic light increases oxygen and blood flow, accelerates wound healing, and facilitates pain reduction and
muscular relaxation.

The whole field of soft lasers in medicine and physiotherapy is relatively new. The majority of earlier soft laser research is
directly applicable to the later use of LEDs (which are safer, longer lasting and less expensive). LEDs cannot be overused since cells will stop responding when healing is complete.

Light can be applied directly to tissue or applied via meridians and acupuncture points. Direct application results in effective penetration deep into the tissue. Meridians can be used to deliver light into the body because monochromatic light travels
through the meridians like an optical fiber. Single frequency light is also a well known method for stimulating
or sedating acupuncture and acupressure points.


---
---
Macular Degeneration (Wet or Dry)
Use the light on the "pulse" setting treating each eye equally for 2-3 minutes as often as you want until stabilized.
Then use 3-4 times daily. Shine the light directly into the eye (open or closed) covering the whole eye area.
You can not over-do nor do any harm.
Cataracts
Same program as above for Macular Degeneration problems. Use the "pulse" setting with the same protocol above.
Glaucoma
Use the "solid" setting with the same protocol above.
We have been selling the light shaker for 20 years and unfortunately the maker of the light shaker has decided to retire and quit making the product.
However after some research we have found an alternative that is just as good if not better! We have had great feedback from this new alternative.
THE PHOTON LIGHT SHAKER

The PHOTON SHAKER is an INEXPENSIVE Phototherapy Instrument, that contains the LED Engin 5 Watt Deep Red (near-infrared - 660 nm) Light Emitting Diode (L.E.D.), plus a DC-to-DC Boost L.E.D. Driver Circuit, that causes it to emit a HI or LO SOLID or HI PULSE (8.5 pps) Monochromatic Deep Red (near-infrared - 660 nm) Light (zoomable from spot to wide) Beam. This SPECIFIC Light Frequency has been found by Health Researchers and Practitioners to have a POWERFUL STIMULATING Effect on the Cells of the Body, making the PHOTON SHAKER an invaluable AID to your HEALTH and WELL-BEING! This Effect is initiated, when the Monochromatic Deep Red (near-infrared - 660 nm) Photons from the PHOTON SHAKER STIMULATE the Cell's Photoreceptors, and then STIMULATE the DNA to START the "HEALING" Process! The SOLID Deep Red (near-infrared - 660 nm) Beam is shined onto a SPECIFIC Acupuncture Point, Trigger (center of pain) Point &/or Reflex Point or onto a LARGE affected Body Area (i.e. - Skin, Joints, Involved Muscles, Tumors, etc.).
The PHOTON SHAKER is simliar to a Laser, because it emits a Monochromatic (single color frequency) Deep Red (near-infrared - 660 nm) Light Beam like a Laser, but isn't EXACTLY like an ACTUAL Laser, because the Light Beam isn't Coherent (In-Phase), and that makes it SAFE to be used even in the Eye Area (closed eyelid). Besides, Researchers have found that the MOST IMPORTANT Factors with either Light Therapy Device is the Monochromatic Light, Power and Exposure Time.
The PHOTON SHAKER is being offered to you as an INEXPENSIVE way to advise your Body, that the TARGETED Area that you're probing, NEEDS ATTENTION! Upon receiving Exposure to the Deep Red (near-infrared - 660 nm) Wavelength of the PHOTON SHAKER, your Mind and Body's Defense System comes into play and employs the NECESSARY Activites to address the initial CAUSES of the Pain or DIS-EASE, which may have been brought about by Mechanical, Chemical, Electromagnetic, Psychological and/or Pathogenic STRESSES.