Fasting for days, or even weeks, while drinking a lemonade-like blend of clear spring water, cayenne pepper and citrus juice has proven to be a safe, simple and yet powerful way to cleanse the body of toxins. This book goes beyond basic information on how to do the cleanse—which can be learned in minutes—by guiding readers step by step through the entire cleansing process.
The author details how the modern diet fills the body with unhealthy toxins and clearly explains the many benefits of performing the cleanse. The book includes real-life stories about people who have tried The Lemonade Diet and relates the amazing improvement in their health.
The Complete Master Cleanse describes what to expect day by day during the fast, including normal physiological changes as well as possible signs of trouble. The author draws on her years of experience helping people successfully detox to provide essential tips on making the fast go smoothly and advice on how to gain maximum benefit.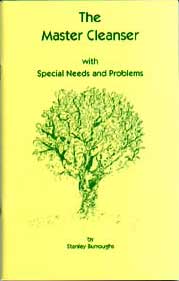 BK28 - Booklet
About the Author
Stanley Burroughs
Stanley Burroughs, now deceased, developed a successful system which has revolutionized our understanding of the Art of Healing. He established a brilliant and fresh approach to healing - in its simplest form. Burroughs sought, through his lifetime, to discover the natural laws of healing. He simplified and clarified them for fast and accurate results. Moreover, he wrote his books for everyone, so they could understand these laws and use as an aid to find complete freedom and release from illness and suffering.
These techniques and principles do not depend on faith, belief or special religious rituals. This system proves, with empirical evidence, that there is absolutely no need for further costly research expenditures into the cause and correction of any present or future variety of diseases.
The answers are already here.
Health Professionals and the public are strongly invited to make any and all possible tests of Mr. Burroughs work. His is a system of automatic precision which can eliminate the many human errors which can, and do occur, with the present awkward, complicated and ever more costly methods. This system accepts no limitations as to the ability of the body to heal itself.
---
---