PORTAZONE
PORTABLE OZONE (O3) GENERATOR
Portazone is no longer available. Please see our OxyOz Ozone Generator!

---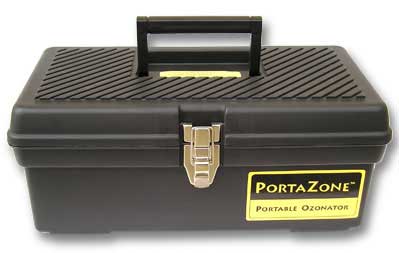 PORTAZONE COLD CORONA
PORTABLE OZONE (O3) GENERATOR
code: PRT01 - 109 mg/hr
(Note: PRT01 does not have a dial to adjust output.)
code: PRT02 - 400 mg/hr


The Cold Corona unit is an advanced Plasma One model.


Comes complete with one water aerator, instructions and warranty.
Ozonate Your Drinking Water
Ozonate Your Bath Water
Clean And Disinfect Your Foods
Ozonate Your Refrigerator, Closet, Auto, Etc.
Ozonate Olive Oil
Features:
Ozone output: up to 400mg per hour (adjustable)
Includes an Aerator/Diffuser for Ozonating water
Ozone production method: Cold Corona
Dimensions: 12.5" w x 5.5" h x 7" d
Weight: 4.5 lbs Watts: 2 watts
Amps: .2 Cycles: 60 Volts: 110
US Warranty: 1 year parts & labor
The CC model uses a technology called cold corona to produce ozone.
Cold corona has the ability to produce a stronger ozone output (up to 400 mg per hour).
The PortaZone CC also has a dial so you can adjust the ozone output and air dryer prior to the ozone chamber.
What is Ozone?
Ozone (O3) is the triatomic form of oxygen (O2). It is oxygen in it's most active state and is an extremely potent oxidant that has been shown to posses broad spectrum antimicrobial activity. Ozone is not just another disinfectant. It has the ability to completely destroy not only bacteria, but also viruses, spores, fungus, mold, mildew, cysts, and many other contaminants while at the same time breaking down dissolved organic materials by oxidation. When ozone (O3) breaks down it naturally reverts back to oxygen (O2).
How Does it Work?
The PortaZone CC uses "Cold Corona" technology developed for NASA, and now made available to you .
Cold Corona works by using a step up transformer, taking 110 to 20,000+ volts,
and taking a conductive media and encapsulating it in a quartz tube.
An electric arc is passed through the tube into an outer chamber which creates a cool clean arc.
Subsequently creating the purest and cleanest Ozone/Super Oxygen.
This will also create several other cascading legs of 03 such as 04,05,06,07,08,Ox.

The ozone then travels through clear, ozone-resistant tubing with a diffuser on the end.
By placing the diffuser in a container of water you will see the ozone gas escaping into the water.
The strong distinctive smell verifies the presence of ozone.
The PortaZone(TM) will put out from 109 mgs to 400 mgs of ozone per hour. (Dial setting allows you to do this.)
Ozone has been shown to effectively eliminate bacteria, viruses, mold, fungus, germs, microorganisms,
and many other types of contaminants from water and other mediums.
Where Is The Oxygen Tank?
No separate oxygen tank is needed to produce ozone in this manner.
---
---
USES


Ozonate Your Drinking Water
Place the diffuser in a glass or container of water. Plug in the unit and run for 1-2 minutes per 8 ounces of water for best saturation.
The time it takes to ozonate a glass of water is about the same for both the UV and CC models. It all depends on what kind of water you use and what strength water you want. Distilled water is for example reported to hold more ozone than tap water. Keep in mind that water can only hold so much ozone, so no matter how long you ozonate it, it will not get stronger. This is not the case with olive oil. It is best to ozonate a glass at a time as ozone will dissipate from the water within 10-20 minutes. They say that using distilled water will increase the amount of time the ozone will remain in the water.

Ozonate Your Bath Water


Draw bath water in the normal manner. Place the unit a safe distance from the bath and place the diffuser in water. Do not get in the tub with the unit running. Make sure area is well ventilated. Run the unit in the bath water for approximately 10-15 minutes when using the UV model and 7 to 10 minutes when using the CC model. Unplug the unit and remove it from the area. Enjoy a luxurious, relaxing and oxygenated bath!



Clean And Disinfect Your Foods


You can place your grocery bag into a large plastic bag and then stick the hose with the ceramic aerator on it and ozonate the entire grocery bag(s) with all the produce in it for about 3 minutes

. Another method, that can be used in addition to the first one, is to fill up your sink with water. Place the unit a safe distance from the sink and place the diffuser in water. Plug in the unit and run for 2-3 minutes. Place fruits, vegetables, eggs, meats, etc. in water with unit still running. Brush and cleanse foods thoroughly while they are being ozonated for another 2-3 minutes. Remove foods from water and air dry. Your produce will stay fresher longer and taste better! Use a bag, shoe box or glass jar to ozonate grains, breads, nuts or other dry foods for 2-3 minutes.

Ozonate Your Refrigerator, Closet, Auto, Etc.


The PortaZone CC may be used to eliminate odors, molds and mildew from many different small areas in your environment. Just place the diffuser (the diffuser can also be removed) into the area to be treated, close off the area and ozonate for up to an hour. Some areas may require several treatments to be effective.



Ozonate Olive Oil
T

here is an optional tube extension with a diffuser on the end especially for ozonating olive oil. To use, remove the diffuser on the end of the PortaZone UV's tube then add the extension tube with it's own diffuser on the end. Place the diffuser into the olive oil and ozonate for 25 minutes. Do not use the same diffuser for olive oil as you do for water. Do not take ozonated olive oil more than necessary.

DISCLAIMER:
Keep the ozonator away from children. Never put the hose into your mouth in order to breath the ozone directly from the unit.
Do not use if pregnant or nursing. Consult with your health care professional before using this device.
---
---
Here at Momentum98 we know the importance of oxygen in overall health.
We offer many oxygen products for sale:

Go to the main Oxygen Products Page








GEN06 -Oxy Caps - 90 caps



LUH01 - Cell Food - 1 oz



Hydrogen Peroxide
from Food Grade

For much more information,
check out the book: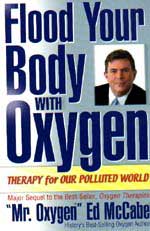 BK9700 - Flood Your Body With Oxygen by Ed McCabe
McCabe's second book on oxygen therapy takes his classic Oxygen Therapies to the next level. Written in 2003, this book has been enthusiastically anticipated! McCabe delves into the subject of our friend Ozone, which can do wonders for the human body. This book is a must read. It is probably the authoritative most complete book on Ozone & its benefits for the human body.
---
---