THE PAIN ERASER
---
---
ABOUT
THE PAIN ERASER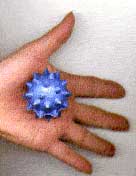 The original Pain Eraser was conceived by Delores Orhdorf. She had suffered from many physical ailments and could get no relief. Her first Pain Eraser was the Magic Finger Roller, containing 180 magic little fingers (or spikes) on a rolling pin like contraption. By rolling it along her body - it alleviated her pain. Gradually this self-massager was perfected into the line of products now referred to as Pain Eraser. Read more about Delores Orhdorf, the history of Pain Erasers, and more in her booklet: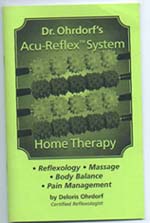 BK10 - Acu-Reflex System Booklet
By Delores Orhdorf
Why is the Pain Eraser so effective?
The Pain Eraser products are amazing self-massage tools that work wonders on soft and hard tissue by improving circulation and loosens tense muscles. It stimulates the body, or hands or legs, or feet, or calves, or back, or tummy, or any part of the body simply by applying pressure and the spikes to the body.
A Note From Phil Wilson
Owner of Momentum98
The Pain Eraser Family...

These products are some of the greatest massage tools ever created! Why? Because by using the Pain Eraser Balls on others, you are giving your hand a great massage as well!

Check out another great self-massage tool:
The Acu-Maseur
Go to the main Acu-Maseur Page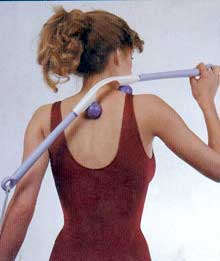 ---
---
THE PAIN ERASER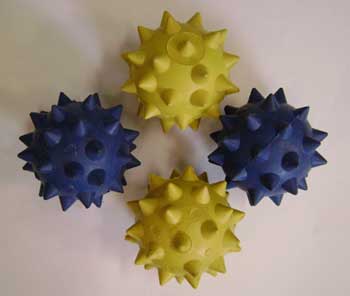 MAS05 - Hard Pain Eraser (Blue)
MAS05Y - Soft Pain Eraser (Yellow)

For those who want a gentler Pain Eraser, this version is comes in the color violet and is made from softer rubber.
---
---
THE PAIN ERASER
FAMILY
---
MAS35 - Hard Pain Eraser 1
MAS35P - Soft Pain Eraser 1

MAS61 - Hard Pain Eraser 2
MAS612 - Soft Pain Eraser 2
---
---
PAIN ERASER
ROLLERS
MAS62 - 4 Cylinder Roller
Hard Rubber

MAS02 - 5 Cylinder Roller
Hard Rubber
The famous Acu-Reflex Roller invented by Deloris Orhdorf ...
This is the ORIGINAL product Ms. Orhdorf created to "cure" herself - the mother of all of the Pain Eraser products.

This unit has a stainless steel rod, and that is why it is so much more expensive than the "pain eraser" deluxe and other products. If you are going to use it in the water for therapy, then you would definitely want stainless steel.
---
5 BALL ROLLER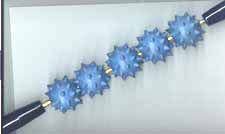 MAS03 Blue MAS033 Purple-soft


The best of them all !

If you are interested in investing in an excellent, sturdy product - this is the one you want.
This is the ultimate Pain Eraser.
---
4 BIG BALL ROLLER

MAS021 - The Pain Eraser balls have a 3" diameter.
Compare with the other Pain Eraser balls...
(which are 2" in diameter)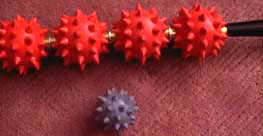 ---
4 BALL FOOT BED ROLLER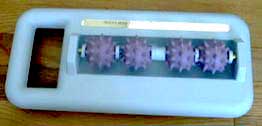 MAS034
The Pain Eraser is a great foot massager because it allows for all the benefits of a Pain Eraser, but in a stationary frame so that you may apply both feet at the same time.
---
3 BALL WAND & ROLLER
MAS615 - 3-Ball Wand
Handle on ONE side



MAS616 - 3-Ball Wand
Handles on BOTH sides

A Note From Phil Wilson
Owner of Momentum98
If you read above on how to use the pain eraser: "And what is so exciting is that when you do it on a friend, you receive the benefits, because your hand gets the best workout of its life." But your hand isn't quite ready for such a workout, or you can't quite get your fingers to outstretch, then you might like to try the Pain Eraser 1, or the Pain Eraser 2. You hold the handle. It's much easier. And you can do a great job of massaging someone's face, neck, back, etc.
For the ultimate in Pain Eraser Satisfaction, the Pain Eraser Deluxe will rolling-pin you like nobody can. The 4 cylinder-shaped blue rubber fittings, made with natural rubber, create a very wonderful stimulating massage, especially when rolled over a light cotton or gauze shirt.
---
---
THE QUAD ROLLER
THE FANTASTIK FINGER QUAD ROLLER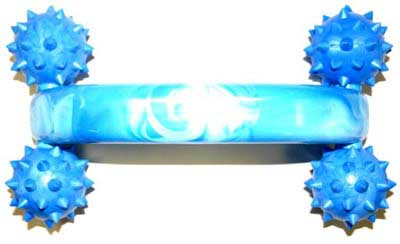 MAS60F
This rolling massager has a handle and 4 Pain Eraser balls. This tool hits all of the pressure points across a muscle. It feels great on the back, shoulders, neck, legs, and feet! It works especially well on the sides of the spine.
---
---
This unusual addition to the Pain Eraser Family isn't made of rubber...
You can boil it in water or put it in a micro-wave oven, so that it will get nice and warm, (and stay warm for up to 30 minutes). This allows you to use as a warm massage tool for yourself and others.


---
DaVinci Tool Soft & Firm Trigger Point Occipital Neck Massager
and many, many more....
Relieves headache
Alleviates neck tension
Eases lower back pain
Releases muscle spasms
Helps improve posture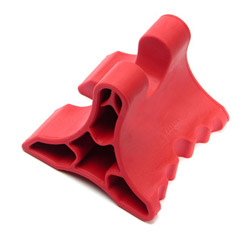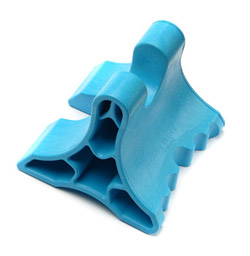 MAS845
SOFT (Red) &
MAS847
FIRM (Blue)
Overview:
The Davinci Tool Firm Trigger Point Occipital Neck Massager is a versatile self massage tool that will help you relieve headache pain and soothe tired, sore muscles. Simple and easy to use and the perfect travel companion. Take it with you anywhere; to work, on vacation or you can even use it in your car. It will relieve stress, muscle spasms, trigger points and improve posture.
Instructions:
Place the DaVinci Tool at the top of the neck and base of the skull. Lie back and relax. Adjust the position of the tool until effective. Position the tool anywhere there is tension, muscle spasms or soreness and lie back and relax. Let the tool do the work for you. Each side of the DaVinci Tool has a different application. Turn it and try all sides for the one that is best for you. The DaVinci Tool can also be used as a hand tool to work on a partner or yourself.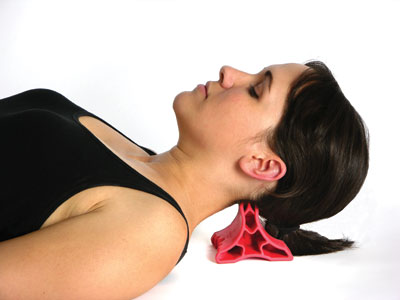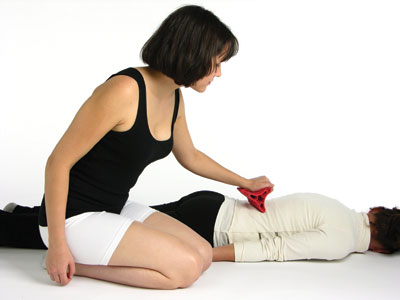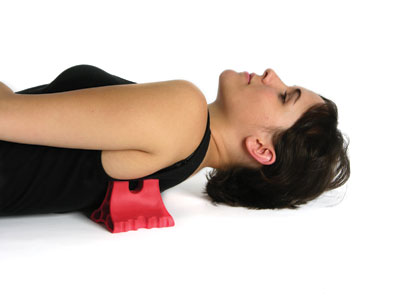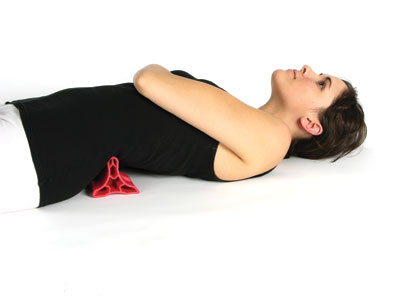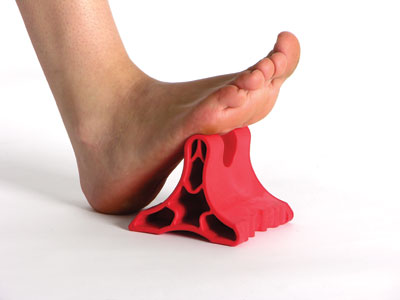 ---
---