SHAVE DELUXE
---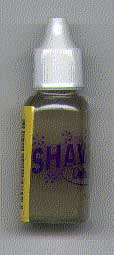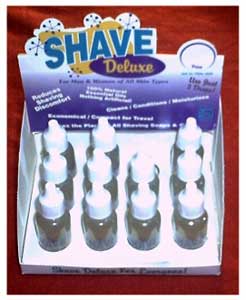 Simply the greatest Shaving Oil in the world!

Shave Deluxe was designed and formulated to take the place
of all shaving soaps, creams, gels,
and powders for men and women of all ethnic backgrounds and skin types.

Shave Deluxe is a non-foaming, proprietary blend of 100% natural essential oils and a hint of menthol.
How to use Shave Deluxe:

Using Shave Deluxe is as easy as using any other product on the market!
1) Generously wet the area to be shaved
2) Massage 3-5 drops of Shave Deluxe into a moist palm
3) Massage into the skin
4) Shave as normal. (Be sure to rinse your razor often)
5) No need to rinse the shaved area, just towel dry.

Can be used in or out of the shower!
Helpful Tips for a really close shave:
To get a really close shave, just re-wet the skin and shave again.
Use 3-5 drops for additional moisturizing and conditioning of the skin.
If you experience any razor drag-add more water, not more Shave Deluxe.
To clean razor, rinse under hot water and tap in the sink.
To use as a pre electric conditioner, apply 1-2 drops, wait a moment and shave as usual.
How does Shave Deluxe work?

Shave Deluxe works to condition and moisturize the skins surface. The high emollient qualities of the oils work to "fatten up"
and soften the whiskers for cutting. The oils reduce the surface friction as the cutting edge of the razor is drawn across the skin's surface. After all, when we want to reduce friction buildup for moving parts, we use oil, right?
Why not for your skin's surface also?
Shave Deluxe benefits:

Use only 3-5 drops per shave
Cleans, conditions and moisturizes. Excellent for sensitive skin.
No alcohol or salts to dry the skin
No mineral oil or lanolin to clog the pores / non-comogentic
No artificial ingredients, fragrances, or colors of any type
No animal testing or animal ingredients
Compact package - good for traveling
Designed for use by men and women from all ethnic backgrounds and all skin types
Can be used as an electric pre-shave conditioner and moisturizer
---
---