Natural Sleeping Aids
---
---
New Product
ZENBEV
by Biosential
go to our zenbev page

ZEB01 - 8.8oz - $34.95
2 or More - $31.95/ea


Zenbev™ is a delicious beverage mix of organic ingredients that provides a natural source of tryptophan derived from pumpkin seeds. As a precursor to serotonin and melatonin, tryptophan enhances mood, emotion and sleep.

In 1997, Dr. Craig Hudson invented a proprietary formula to aid an increasing number of people suffering from various sleep problems. Most of these people had tried different medications and were dissatisfied with the options available to them and many had just given up hope for an effective solution. Dr. Hudson's formula is comprised of a natural source of tryptophan derived from pumpkin seeds, which is an essential amino acid our bodies can normally only get from food sources. Tryptophan metabolizes into serotonin, and in a nighttime environment, turns into melatonin which allows us to fall asleep naturally.
Pumpkin seeds when ingested alone, however, are not a sufficient source of tryptophan. This is due to intense competition from other amino acids, which are also part of pumpkin seed protein, for access to transport sites across the Blood Brain Barrier (BBB). Zenbev's natural source of tryptophan is combined with other precise ingredients that help it to function optimally. A small amount of a high glycemic index (GI) carbohydrate is specifically included in the formulation. Its role is to combine with the other amino acids and shunt them toward the liver, thus leaving tryptophan, which is largely protein-bound, with a clear advantage to get into the brain.
---
---
L-TRYPTOPHAN COMPLETE
by Lidtke Technologies
go to our Lidtke page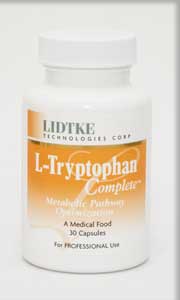 LID01 - 60 Caps - $35.95
A few benefits of L-Tryptophan CompleteTM:
Powerful and fast acting
Promotes deep and restful sleep
Reduces anxiety and calms nervous irritability
All natural support for a great mood
Relieves muscle pain
Reduces the craving for sweets and carbohydrates
Overcome by the stress of home or business? L-Tryptophan Complete™ includes the necessary cofactors and co enzymes to ensure that you receive the full benefit of L-Tryptophan. No other L-Tryptophan formula is so complete or well-researched. Feel better, sleep better tonight.

New L-Tryptophan Complete takes L-Tryptophan a step further. In recent years, our research has revealed the importance of numerous biochemical pathways that are part of L-Tryptophan metabolism.
There are many steps to L-Tryptophan metabolism, and each of these steps is controlled by an enzyme within your cells. Each enzyme, though, is as useless as a car without wheels if it lacks the critical co enzymes and cofactors that make it run.
Our job has been to identify and quantify these co enzymes and cofactors, and combine them in L-Tryptophan Complete to ensure your cellular enzymes work, and you receive all the benefits of L-Tryptophan that Nature intended.

L-Tryptophan Complete was inspired by the fact that many peoples around the Earth are so poorly nourished they fail to get proper benefit from the food or supplements that they do receive. Even in prosperous countries, genetic variations and unwise diets can interfere with your metabolism of essential nutrients.
Understanding many of these human differences, our intention at LIDTKE for many years has been to create an L-Tryptophan formula that works even when a host of health issues and deficiencies may be present.
The fact is, thousands of health-conscious consumers are now benefiting from L-Tryptophan Complete. They use it and depend on it for better health.
---
---
ULTIMATE SLEEP SYSTEM
by Rainbow Light
go to our Rainbow Light page
RAI968 - 30 tabs - $11.95

Ultimate Sleep System promotes restful and rejuvenating sleep with a formulation that encourages muscle relaxation, sleep, calmness, and supports the body in producing melatonin. Offers a comprehensive approach to promoting restful sleep, drawing from the timeless wisdom of herbal traditions around the world and important recent nutritional research.

It is uniquely formulated to support emotional and physical relaxation, featuring: maximum herbal power, from a blend of relaxing 4:1 herbal extracts, including valerian, kava kava, passion flower, reishi and hops, providing the equivalent of 3200 mg of herbal powder, 40 mg of additional standardized kava kava and 160 mg of added standardized valerian, for a consistent level of active herbal constituents. Kava Kava supports relaxed calm, while valerian supports nighttime relaxation and sleep. Also includes factors to support the body's natural production of melatonin, a naturally occurring neurohormone which helps regulate the sleep-wake cycle, such as N-acetyl L-carnitine, Vitamin B3, chromium and naturally occurring tryptophan from spirulina and magnesium, an essential mineral involved in muscular relaxation.
---
---
VALERIAN EASY SLEEP
by Planetary Herbals
go to our Planetary Formulas page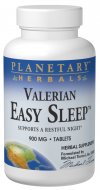 PLA78 - 900 mg - 60 tabs
PLA79 - 900 mg - 120 tabs
Planetary Herbals Valerian Easy Sleep is a unique combination of botanicals used for centuries to help support a restful night. It unites valerian, used since the 9th century for its calming properties, with equally legendary calming hops and chamomile, as well as other selected European and Chinese botanicals.

Lifestyle Recommendations:
To support a normal night's sleep, avoid excessive stress, exercise regularly and do not eat late at night. Other Planetary Herbals products to support calmness include: Stress Free, Reishi Mushroom Supreme and Calm Child.

Ingredients:
Calcium 35 mg
Valerian Root 264 mg †
Valerian Root Extract (4:1) 52 mg
Proprietary Blend: (1.48 g †)
Jujube Seed, Skullcap Aerial Parts, Passionflower Leaf and Flower, Hops Strobile, Wood Betony Aerial Parts, Chamomile Flower, Calcium Citrate, Magnesium Taurinate, Dong Quai Root, Poria Sclerotium, Licorice Root, Amber Resin, American Ginseng Root, and Ginger Root.

Suggested Use:
2 tablets 30 minutes before bedtime, or as recommended by your health care professional.
---
---
MELATONIN
by Natrol

NAT34 - 2 oz (shown) - $5.95
(1 mg per serving)
NAT341 - 8 oz - $11.95
(2.5 mg per serving)
Contains 1 mg (2oz) and 2.5 mg (8oz) of Melatonin Per Serving. Natrol®'s Melatonin supports healthy sleep patterns. The body naturally releases Melatonin in response to changes in light, with Melatonin levels rising at night. It is in this way that Melatonin helps promote sleep. Each batch of Natrol Melatonin is verified by HPLC-method.

Directions
Shake well before each use. Take 4 droppers (4 ml) 20 minutes before bedtime or as desired. May be taken directly or combined with water or juice.
Warnings
If you are under medical supervision or using any tranquilizers or sedatives seek the advice of your health practitioner prior to using. Consult your physician before using if you have an autoimmune condition, depressive disorder or are a pregnant/lactating woman. Not for use by children under 12 years of age. Do not take when operating machinery or driving a vehicle.
Store in a cool, dry place.
Keep out of reach of children.
Disclaimer
These statements have not been evaluated by the FDA. These products are not intended to diagnose, treat, cure, or prevent any disease.
---
---
L-TRYPTOPHAN
by Source Naturals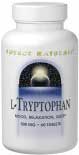 500mg
SN031 - 30 Tabs - $15.95
SN03 - 60 Tabs - $29.95
Mood, Relaxation, Sleep

The essential amino acid L-tryptophan helps support relaxation, restful sleep, and feeling better. It plays a part in the synthesis of both melatonin and serotonin, hormones involved with mood and stress response. L-Tryptophan also supports immune functions because it is the body's precursor to the kynurenines that regulate immunity. If needed, L-tryptophan converts to niacin in the body, which supports circulation, a healthy nervous system, the metabolism of food, and the production of hydrochloric acid for the digestive system. Source Naturals L-TRYPTOPHAN is extremely pure and is regularly tested to ensure the highest standards of quality.


Supplement Facts for 500 mg Capsule
Serving Size: 3 capsule(s)

---

Amount

%DV

L-Tryptophan

1.5 g

†
Other Ingredients: gelatin (capsule), colloidal silicon dioxide, and magnesium stearate.
Warning: If you are pregnant, breastfeeding, may become pregnant, or are taking medications such as SSRI's or MAOI's consult your health care professional before using this product.
Suggested Use: 1 capsule 3 times daily, between meals and preferably with fruit juice. To support restful sleep, take 3 capsules before bed.
---
---
NERVES / SLEEP
by Herbs of Light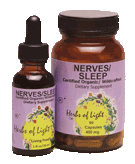 HOT51 - 90 Caps - $12.95
Ingredients:
Certified Organic/Wild crafted Black Cohosh root, California Poppy herb, Chamomile flowering tops, Hops strobiles, Oat straw, Passion Flower herb, Scullcap herb, Valerian root, Wild Lettuce herb.

Actions:
Excellent sedative for hysteria to insomnia. Use for stress, worry, anxiety and irritable feelings. Creates a calming and soothing effect while helping to revitalize the nervous system.
Dosage:
Liquid: Shake well. Take 20-40 drops in juice or water 3 times a day, 6 days a week. Capsule: Take 1-2 capsules with meals 3 times a day, days a week. Take for 1 to 2 weeks after symptoms have stopped.
Notes:
If pregnant, consult physician. Do not use with pharmaceutical sedatives. Exercise daily, especially in the evening to allow chaos to release. followed by meditation or the calming of the mind. Exercise, then meditation.
---
---
RESCUE SLEEP
by Bach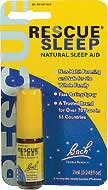 BAC92 - 7 mL - $18.95
Bach Rescue Sleep®
Rescue Sleep® calms your restless mind providing natural relief of occasional sleeplessness caused by stress and repetitive thoughts.
- Non-habit forming
- Non sedatives
- No hangover
- Fast acting spray
- Insomnia Caused by Stress
- Restless Leg Syndrome (RLS)

5x (HPUS) dilution
Star of Bethlehem – Orithogalum umbellatum
Rock Rose – Helianthemum
Cherry Plum – Prunus cerasifera
Impatiens – Impatiens gladulifera
Clematis - Clematis vitalba
White Chestnut – Aesculus Hippocastanum
27% Grape Based Brandy as a preservative
---
---
Acupressure Sleep Aid Band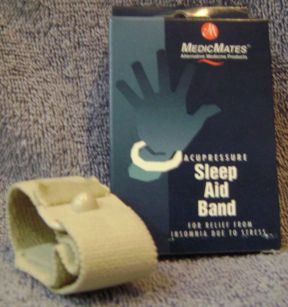 MMT03
MedicMate sleep-aid band is a specially designed adjustable band with an attached, anatomically designed button. Place the sleep-aid band on your wrist at any time prior to napping or sleeping. Warning: Never wear the sleep-aid band while driving or operating machinery.
Wearing two bands at once, one on each arm, is the recommended method for best results.
---
---