COLOR THERAPY GLASSES
---
---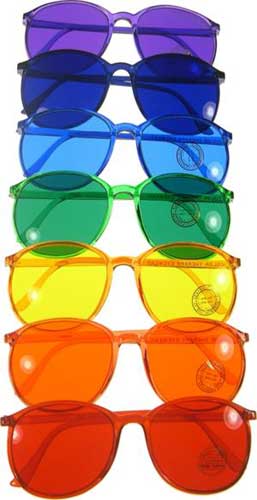 Color therapy glasses are attractive nonprescription colored sunglasses, made of lightweight nylon frames with acrylic lenses that meet current FDA standards for sunglass safety. They are impact resistant and meet general purpose UV requirements. They block 95% UVB and 60% UVA rays.
---
---
ABOUT
COLOR THERAPY GLASSES
Wearing Color Therapy Glasses !
The color therapy glasses can be worn daily for 30 to 60 minutes.
Or you can wear them as long as you like.

If you use a specific color for an acute condition, you could wear the color until the symptoms disappear.
You can focus on one specific problem and color, or you can wear as many colors as you would like each day.

Color therapy glasses can be worn whenever and wherever you wish, day or night.
Listen to your body. Experiment with all the colors, learning how they effect you.Try all of the glasses. Each will probably effect you uniquely.
What is Color Therapy ? How Does It Work ?
Color Therapy is simply the therapy of using colors to heal. Certainly modalities of using color therapy
to heal includes shining color lights on a person, being in a room painted in a particular color,
wearing certain colored clothes, imagining colors shining upon you while sitting still with eyes closed,
eating fruits and vegetables of certain colors, and wearing the color therapy glasses,
which was designed to make the use of color therapy convenient and affordable.

The eyes convert light (color) into a kind of energy which travels through
our nervous system, which can effect all body functions. Studies have shown that
when color is introduced to the human system it causes cellular and hormonal changes
thus bringing the cells into synchronization or balance with the color.

How does Color Work ?
Each color vibrates at a specific, individual frequency, as do the glands and organs of the body. Each color corresponds to a specific area of the body. Color vibrates true to frequency.
It never deviates, but people deviate. The body is constantly being challenged in life,
and is always working to maintain balance. When we are ill, the body is out of balance;
the body is not functioning at its proper frequencies. A key to feeling better is to bring balance back
to the area of the body that is the source of the illness.
Color Entering the Eyes !
One method of using color is by having it enter a person's eyes. Color entering the eyes is
directed to the hypothalamus gland, then to the pineal gland, which directs it to the pituitary gland,
which governs and regulates hormone production. The brain processes this information, which causes
cellular and hormonal changes to occur. The frequency of the color is transmitted to the area of
the body that recognizes the frequency. The color's vibration tunes into the corresponding area
bringing it into synchronization with the color.
This brings the organ or gland back to its proper function. While using color the body is functioning properly.
If used daily the body will relearn to function on it's own, much the way physical therapy works.

Since each color corresponds to a specific area of the body, we need each color.
This we can receive from the sun's light. It is important to receive this light outside, because
glass does not allow certain wavelengths through and this creates a certain malnutrition of color.
---
---
WHAT DO THE
COLORS
REPRESENT?

Go to an additional web page about Stanley Burrough's descriptions on Color Therapy

Red - (Base/Sacral Chakras) - Red makes you feel more energetic, outgoing and ready to move in some overt way. Red helps to motivate fire and passion, ferocity and strength. Red denotes a strong sexuality.

Orange - Orange is the color of success. It helps to expand interests and activities.

Yellow - (Heart/Cardiac Chakra) - Yellow encourages open mindedness and attention to detail. Yellow generates positive and optimistic qualities in those who wear it.

Green - (Heart/Cardiac Chakra) - Green creates calm, soothing and balancing atmospheres. Green tends to create harmony and equilibrium.

Blue - (Thyroid/Throat Chakra) Blue suggests spirituality and order. Those who wear it reflect a wish for peace and quiet, tranquility and even solitude.

Indigo - Indigo has the highest positive vibration. It combines reason with intuition and discipline with creativity.

Violet - (Brow/Third Eye Chakra) - Wearing violet generates the feeling of self respect and dignity. It has creative and spiritual qualities.

Turquoise (Thymus Chakra) - Turquoise stimulates a quiet and reflection. It helps to clear all your thoughts and feelings, generating clarity in your communications.

Magenta - (Crown/Pineal Chakra) - Magenta generates feelings of softness, gentleness and kindness. It creates feelings of love and compassion.
---
---
THE RAINBOW COLORS

COL07 - RED


COL06 - ORANGE


COL05 - YELLOW


COL04 GREEN


COL03 - BLUE


COL02 - INDIGO


COL01 - VIOLET

AND THE TWO EXTRA COLORS...
| | |
| --- | --- |
| | |
| COL12 - TURQUOISE | COL13 - MAGENTA |

ALSO AVAILABLE IN:
CLIP-ON GLASSES
Discontinued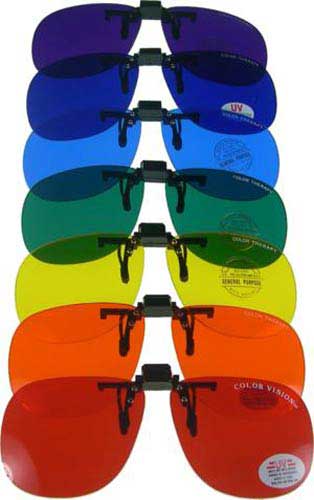 CLICK HERE TO SEE ORDER FORM FOR AVAILABILITY AND PRICES
---
---
HEALING FOR THE AGE OF
ENLIGHTENMENT
Go to an additional web page about Stanley Burrough's descriptions on Color Therapy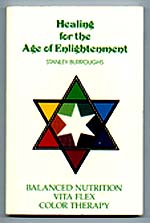 BK20
By Stanley Burroughs
Stanley Burroughs, now deceased, developed a successful system which has already revolutionized the entire understanding of the art of healing. Written in the 1930s this book has endured as a classic within the three fields it describes. This book deals primarily with well-defined, simple, basic laws which relate to cleansing, structural changes, and natural healing.

One of these fields, Section III, is Color Therapy.
Mr. Burroughs gives a description on the role of the seven rainbow colors
and the two additional colors, Magenta and Turquoise.
Let There be Light
by Darius Dinshah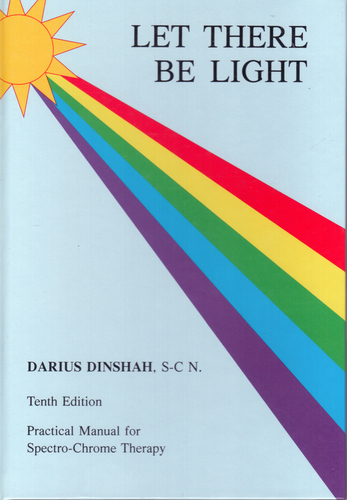 BK722
This book is about Dinshah's 46-year struggle to enlighten the healing profession regarding his Spectro-Chrome System of therapy and it also gives all the information necessary to test it for yourself.
Using his system is surprisingly simple. All that is required is an incandescent lamp, and a set of color filters. That Spectro-Chrome is effective was proven through years of use for a wide range of illnesses by the Senior Surgeon in a major Philadelphia hospital, and hundreds of other physicians as well.
Dinshah P. Ghadiali founded three organizations for the primary purpose of promoting Spectro-Chrome, the healing system he organized.
---
---