---
---
CHILDREN'S
PINHOLE GLASSES

The children's version of the Pinhole glass are the adult version - only with smaller frames.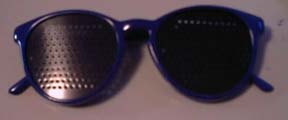 PHL18 - BLUE
PHL19 - GREEN
PHL20 - RED

Measures 5 3/8" from temple to temple.
Regular Pinhole Glasses measure 6" from temple to temple.
---
---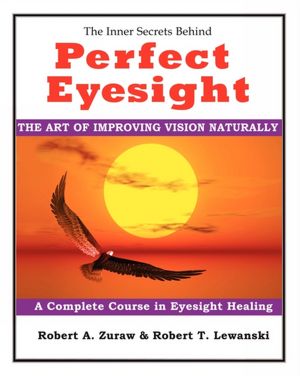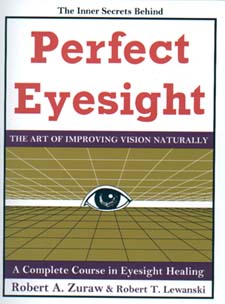 New Version - Product #?????? List $29.95 Our Price$24.95
Old Version - Product #BK6436 Our Price $19.95
BY ROBERT A. ZURAW & ROBERT T. LEWANSKI
A Complete Course in Eyesight Healing:

*Find out the real eye health and healing secrets passed down from the master teachers.

*Find out how you can attain Perfect Eyesight without glasses or surgery!

*Perfect Eyesight contains the latest and most important vision improvement discoveries of the decade!
*The Zuraw Personal Eyesight Training System stems from 39 years of research and testing.

Discover the Inner Eye secrets behind..
The Egyptian "Black Dot" & "Letter Gazing" techniques
Improve distant vision with "Positive Lens" glasses
Special easy-to-do, no routine, natural eye exercises
Special internal Chi Kung exercises for the eyes
Ayurvedic analysis of nutritional body types for the eyes
Chinese five elements body typing vision system
Special liver cleansing foods to strengthen vision
Toxic foods to avoid that destroy vision and health
3 extraordinary 10 minute eye improvement techniques
Oriental eye pressure points, foot trapping and hara massage systems
The secret Black Globe Palming exercise
The Tibetan Peripheral Vision Technique
Nutrition, herbs and super foods for clear vision....and more!!!
A Note From Phil Wilson
Owner of Momentum98
This book is probably worth the cost of a $150.00 weekend course. It contains a wealth of information, and can be used in conjunction with the pinhole glasses to improve your vision naturally.
---
---
ACU-POINT FACIAL MASSAGER
MAS954
1 AA battery needed (not included)

When you need to take a moment for yourself, find a peaceful spot, sit back, relax and have a refreshing facial massage...

This massager has two speed vibration and foam padded massage points for extra comfort.
Also comes with adjustable head band and eye shields with holes to allow partial viewing.

Instructions:

Place unit over eyes (like a pair of glasses) and attach strap around your head.
Power witch (2 speeds, OFF position is in the middle) is located at the front of the Facial Massager near the bridge of the nose.
---
---
TESTIMONIAL
Hi Phil,
We are ready for another order of pinhole glasses! My practice members, and I, just love these things. I was wearing corrective lenses full-time when I graduated from chiropractic school, 12 years ago. I quit wearing the corrective lenses and went solely to the pinholes. I am still using pinholes only, (at age 57) and am seeing pretty darn well!
I do not see the wholesale price listed for bulk orders. Seems like we used to order 12 for wholesale discounts. Please advise your current wholesale policy and pricing, and we will place an order right away.
Thanks so much!
M.T., Texas