Organic Daily Fiber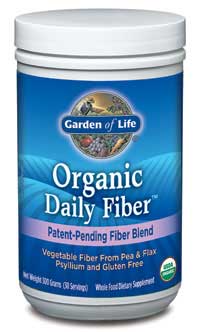 GAR09 - 300g
Organic Daily Fiber is a USDA certified organic fiber supplement that naturally supports cleansing for a healthy digestive environment. It is formulated with 100% certified organically grown flax seed and pea hull fiber, alfalfa and barley grasses plus chia seed.An excellent source of dietary fiber, providing 5 grams and 20% of the Daily Value in a balanced ratio of soluble to insoluble fiber. Helps entrap toxins such as metals, lead, mercury and other environmental pollutants within the gastrointestinal tract for removal from the body. A unique combination of organic fibers that resists breakdown and fermentation by intestinal flora and will not re-circulate toxins into the body
100% gluten free
Contains no psyllium or harsh laxatives
What makes Organic Daily Fiber different from other fibers ?
Dietary fibers from edible fruits and vegetables are known to absorb non-functional metals and environmental toxins the body is normally exposed to. However, some fibers are subject to systematic degradation by normal gastrointestinal flora, resulting in re-release of the absorbed toxins into the GI tract, making them available for re circulation in the body. Organic Daily Fiber contains a special combination of dietary fibers specifically selected for their exceptional absorbing ability, and their resistance to degradation by normal intestinal flora, so the toxins absorbed by the fiber are less prone to being re released and re-absorbed into the body. No additional toxins or chemicals are introduced while using Organic Daily Fiber since the fibers included are organic.
GAR09 - ORGANIC DAILY FIBER (300grams) - $17.95
---
Primal Defense
Homeostatic Soil Organisms (HSO) Probiotic Formula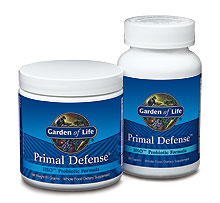 GAR014 - 45 caps
GAR01 - 90 caps
GAR013 - 180 caps
GAR15 - 81 grams

The HSO Probiotic Blend in Primal Defense helps support the normal gastrointestinal balance of good and potentially harmful bacteria to help maintain a balanced, healthy internal environment. Contains probiotics that promote regular bowel function and help maintain an already healthy immune system – both of which are beneficial to overall health. It maximizes the benefits of a healthy diet by supporting normal absorption and assimilation of nutrients in the gut.

Primal Defense is the only probiotic formula that contains a unique whole food blend with Homeostatic Soil Organisms (HSOs). The HSOs in Primal Defense are important probiotics you would get in abundance if your food came from soil untouched by pesticides, herbicides and other widely used chemicals. To replenish the valuable probiotics our pasteurized, irradiated and disinfected food no longer provides, Primal Defense includes 12 species of hardy beneficial microorganisms in the form of the HSO Probiotic Blend.

What are probiotics and why do I need them?
Probiotics are beneficial microflora that play a critical role in maintaining good health. Healthy human intestines contain billions of both good and potentially harmful microorganisms. The good bacteria in the intestines are considered to be an integral part of normal immune system support.
Probiotics are important because they can synthesize certain vitamins and short-chain fatty acids to support a healthy intestinal lining and bolster immunity. When your intestinal lining is occupied by healthy beneficial flora, it deprives unwelcome microorganisms of both space and nutrients.
Healthy people usually have a ratio of approximately 85% good to 15% potentially harmful organisms in the intestinal tract.
In some cases, even those who appear to be well might have an unfavorable ratio as a result of daily exposure to environmental toxins and a modern lifestyle. For example, taking antibiotics or drinking chlorinated water may change the optimal microbial balance essential for good health.
What are HSOs and where do they come from?
Large scale use of pesticides, herbicides and other chemicals has changed the bacterial balance of the soil. In order to obtain the benefits we historically acquired from consuming foods cultivated in healthy soil, Garden of Life developed a Homeostatic Soil Organism Probiotic Blend utilizing 12 species of beneficial microorganisms.
What can occur if I don't have enough beneficial bacteria?
A lack of beneficial bacteria in your diet can result in an unbalanced internal environment and a lack of support for your normal immune system function.

What probiotic species does Primal Defense contain?
Lactobacillus plantarum Bacillus subtilis
Lactobacillus brevis Bifidobacterium breve
Bifidobacterium bifidum Lactobacillus paracasei
Lactobacillus salivarius Lactobacillus casei
Bifidobacterium lactis Bifidobacterium longum
Lactobacillus acidophilus
Lactobacillus rhamnosus

GAR014 - PRIMAL DEFENSE (45 caps) - $22.95
GAR01 - PRIMAL DEFENSE (90 caps) - $40.95
GAR013 - PRIMAL DEFENSE (180 caps) - $70.95
GAR15 - PRIMAL DEFENSE (81 grams) - $ 40.95
---
Primal Defense ULTRA
Ultimate Probiotic Formula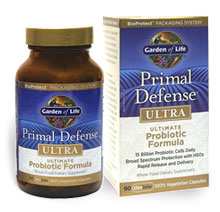 GAR017 - 90 caps

Primal Defense ULTRA offers the ultimate high potency, broad-spectrum probiotic formula, providing a 15 billion live cell count of 13 species of beneficial cultures including soil-based probiotics called Homeostatic Soil Organisms. It supports normal intestinal comfort and function, and promotes healthy intestinal elimination regularity and consistency. Moreover, it helps maintain a healthy, balanced immune system which is beneficial to overall health.

Primal Defense ULTRA contains Bacillus subtilis to support healthy lactic acid bacteria (Bifidobacterium and/or Lactobacillus) count and healthy pH levels in the gut. The Saccharomyces boulardii in Primal Defense ULTRA nourishes intestinal mucosa cells to support the normal barrier function of the intestinal epithelium, the front line for the body's defense system.

GAR017 - PRIMAL DEFENSE ULTRA (90 caps) - $44.95
---
Primal Defense Kids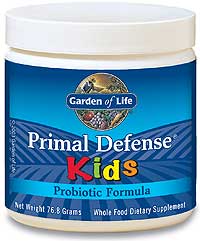 GAR016 - 76.8 g

How is Primal Defense Kids different from other probiotic formulas?
Primal Defense Kids contains a 4 billion live cell count of four species of beneficial probiotic cultures.
It contains a unique Bifidobacterium blend with the probiotic Saccharomyces boulardii, that supports healthy intestinal epithelium lining integrity, the front line for the body's defense system. Its three species of Bifidobacteria: Bifidobacterium breve, Bifidobacterium infantis and Bifidobacterium longum, are all found in a healthy child's digestive tract and have all been clinically studied in children, as has Saccharomyces boulardii.

Primal Defense Kids is made with organic banana
so your child will enjoy taking it.

Why should you use Primal Defense Kids for your child?
Primal Defense Kids can be used effectively and safely by children aged three years and older. Dysbiosis is an imbalance of microflora in the gut, often cause by a diet high in processed and refined foods as well as lack of beneficial microorganisms in the diet. Any child who consumes such a diet can benefit from Primal Defense Kids. Digestive health is critical to the overall health of your child, especially healthy immune system function. Primal Defense Kids can help support the health and vitality of your child's immune and digestive system.

GAR016 - PRIMAL DEFENSE KIDS (76.8 grams) - $22.95
---
Super Seed
Beyond Fiber with Flax Seed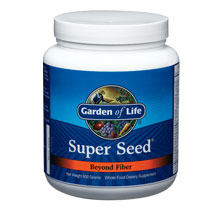 GAR081 - 200 grams
GAR08 - 600 grams

Super Seed provides an excellent source of dietary fiber, as it is a whole food blend of seeds, sprouted grains,
and legumes containing both soluble and insoluble fiber. It contains ingredients specifically chosen for their ability to support normal gut flora balance, regular bowel function, and overall health. Moreover, Super Seed provides naturally occurring Omega-3 fatty acids.The flax in Super Seed supports healthy estrogen metabolism and breast health in women, and supports normal prostate health in men.

* Good source of protein from beans and legumes
* Super Seed does not contain any added sugars or artificial ingredients such as sweeteners, colorings or flavorings,
unlike many popular mass market fiber supplements
* Two servings of Super Seed provide over 50% of the Daily Value for fiber
* Most of the fiber in Super Seed is soluble. Each serving provides over 5g of soluble fiber from whole food ingredients.

What is dietary fiber?
Fiber is a complex carbohydrate which is found in plants. The body does not digest fiber; instead the fiber component of food passes through the digestive system. There are two types of fiber - soluble and insoluble fiber. Much like it sounds, soluble fiber is fiber that dissolves in water and insoluble fiber is fiber that does not. The best way to get fiber is through a whole food diet of fruits, vegetables, grains, seeds and legumes.
The role fiber plays in a healthy diet became apparent at the turn of the century. Diets previously high in dietary fiber were altered to include the new "wonder foods," refined sugar and milled flour. The increased use of these foods, which were devoid of dietary fiber, led to a theory that connected a lack of fiber and the overall state of health. Several generations later, up to 100 million Americans experience some form of occasional digestive discomfort.
Super Seed was formulated to include naturally occurring soluble and insoluble fiber from carefully selected grains,
seeds and legumes that are easy on the gastrointestinal system.
Super Seed does NOT include psyllium husk, which provides no nutritional value.

How does Super Seed support normal gut flora balance?
Super Seed contains fiber components that act as probiotics to support normal gut flora balance.
Why is dietary fiber important?
Vibrant health begins in the colon, and supplying your body with adequate dietary fiber every day is essential
to colon function and overall health.
How do I take Super Seed?
Super Seed is a powder blend that can be mixed in smoothies, vegetable or fruit juices, cereal, yogurt or soup. In fact,
Super Seed can add nutritional value and fiber to nearly any food or beverage.

What makes Super Seed better than other fiber supplements?
Many other fiber supplements rely on insoluble fiber alone and provide very little in the way of nutrition.
Super Seed contains both naturally occurring soluble and insoluble fiber from
carefully selected grains, seeds and legumes that are easy on the gastrointestinal system. Additionally, Super Seed contains no psyllium.
GAR081 - SUPER SEED BEYOND FIBER (200 grams) - $7.95
GAR08 - SUPER SEED BEYOND FIBER (600 grams) - $22.95
---
Omega-Zyme
Digestive Enzyme Blend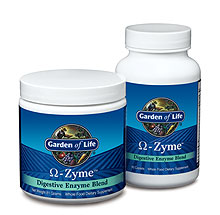 GAR02 - 90 caps
GAR021 - 180 caps
GAR022 - 81 grams

* Provides 20 different digestive enzymes that help you process proteins, carbohydrates, fats and difficult-to-digest foods like broccoli, nuts, seeds and beans*
* A great way to get the enzymes you need is to consume a diet high in "live" raw and fermented foods, and/or to supplement your diet with digestive enzymes such as those found in Omega-Zyme

What are enzymes and why do I need them?
Enzymes are protein-like substances that act as catalysts for all chemical reactions in the body. Enzymes help maintain the body's tissues, orchestrate its functions and digest food. There are three kinds of enzymes:
Metabolic Enzymes — spark many of the reactions inside cells, enabling our organs, tissues, and cells to work properly.
Food Enzymes — supplied by what we eat, they help break down food before our digestive enzymes are called upon. The majority of food enzymes are destroyed at temperatures above 118ºF, so nearly all cooked and processed foods are devoid of them.
Indigenous Digestive Enzymes — secreted by the pancreas into the small intestine, they break down the nutrients in the foods we eat that have not already been broken down by food enzymes.

Garden of Life believes that enzymes are perhaps our most important and overlooked dietary component. Before the advent of modern food processing, we ate a diet that was rich in "live" raw and fermented foods. These foods contained many of the food enzymes that our diet lacks today. Food enzymes aid in the digestion of food. Without them, the body must produce more digestive enzymes to break down the nutrients in the food we consume.
What's in Omega-Zyme?
Omega-Zyme contains potent enzymes that support the digestion of a multitude of nutrients in the gastrointestinal tract.

Omega-Zyme contains the following enzymes:
• Protease blend of five proteolytic enzymes aids digestion and utilization of dietary proteins*
• Amylase digests starch*
• Lipase digests fats*
• Glucoamylase breaks down starch-like carbohydrates*
• Malt diastase (maltase) digests maltose based carbohydrates or malt found in grains*
• Invertase (sucrase) is an enzyme that breaks down sucrose into glucose and fructose*
• alpha-Galactosidase helps digestion of difficult-to-digest foods such as beans, legumes and cruciferous vegetables*
• Lactase digests the milk sugar lactose*
• Cellulase digests fiber cellulose into smaller units*
• Xylanase breaks down xylose, also called wood sugar*
• Pectinase breaks down carbohydrates such as pectin, found in the pulp of many fruits*
• Hemicellulase breaks down carbohydrates widely present in plant foods*
• Phytase breaks down phytic acid present in many difficult-to-digest grains and beans. Research supports the view that phytic acid present in plant foods interferes with digestion of proteins and utilization of many important minerals, such as zinc, magnesium, and iron*
• Beta-glucanase breaks down bulky beta-glucan molecules into smaller units*
• Bromelain, derived from pineapple, breaks down a broad variety of proteins*
• Papain, derived from papaya, also digests proteins into peptides and amino acids*
GAR02 - OMEGA-ZYME (90 caps) - $34.95
GAR021 - OMEGA-ZYME (180 caps) - $44.95
GAR022 - OMEGA-ZYME (81 grams) - $41.95
---
Omega-Zyme ULTRA
Ultimate Digestive Enzyme Blend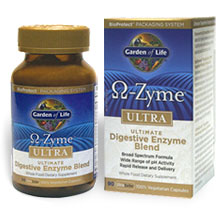 GAR023

*The ultimate digestive enzyme supplement, supporting gastrointestinal health and digestion through a highly potent, comprehensive formula that delivers higher activity per serving of a broader range of enzymes than other leading enzyme formulas.
*Provides 21 different digestive enzymes, each with a specific function to help your body process proteins, carbohydrates, fats, and difficult to digest foods like broccoli, nuts, seeds, beans, and dairy, increasing nutrient availability to the body.
*Delivers a unique blend of digestive enzymes with activity optimized across the full spectrum of pH (acid/alkaline) levels that exist throughout the gastrointestinal tract.
*Contains a range of trace minerals, co-factors that activate enzymes and help them function properly in the body.
*Includes dairy digestive enzymes (lactase & specific protease) that support dairy product digestion.

GAR023 - OMEGA-ZYME ULTRA - $41.95
---
FOUNDATIONAL HEALTH
The building blocks of healthy nutrition are found in healthy proteins, carbohydrates and fats.
Vitamins, minerals, amino acids, antioxidants and enzymes are essential elements that help sustain the optimal environment for the body to function. Foundational Nutrition by Garden of Life provides a full line of supplements specifically formulated with high quality ingredients to deliver the building blocks and essential elements of nutrition that are fundamental to your body's health and well-being.
---
CODmega
Wild Fish and Cod Liver Oil Complex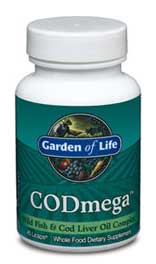 GAR312 - (45 caps)
GAR313 - (90 caps)

CODmega is a unique combination of wild fish oils, including cod liver oil from the deep, clean arctic waters of Norway.
This formula provides 400mg of EPA and 600mg of DHA Omega-3 fatty acids.

* Contains a pleasant lemon mint flavor to help reduce aftertaste.
* Utilizes Licaps technology for easy-to-swallow capsules that are less oxygen permeable than soft gels for maximum oxidation protection.

What is CODmega and what fish oils does it contain?
CODmega is a unique blend of wild fish oils including sardine oil, anchovy oil, skipjack tuna liver oil and cod liver oil.

Why do I need fish oil in my diet?
Lack of adequate amounts of essential fatty acids such as EPA and DHA in the typical North American diet is a growing concern. CODmega provides you with 1,000mg of EPA and DHA Omega-3 fatty acids per serving. The cod liver oil in CODmega capsules is also an excellent source of Vitamins A and D in the form of D3, providing 20% and 25% of the Daily Values respectively.

What are the benefits of Omega-3 fatty acids?
Supportive but not conclusive research shows that consumption of EPA and DHA Omega-3 fatty acids may reduce the risk of coronary heart disease. Besides their cardiovascular benefits, a significant body of scientific research provides evidence that these Omega-3 fatty acids also support healthy neurological and brain function. The Vitamins A and D in CODmega support normal calcium metabolism and bone development, and help maintain bone structure. Vitamin A also supports eye health, normal skin and hair structure, gene expression, reproduction, and healthy immune function.
GAR312- CODMEGA (45 caps) - $17.95
GAR313 - CODMEGA (90 caps) - $29.95
---
Perfect Food &
Perfect Food Original Super Green Formula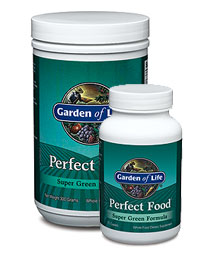 GAR06x

Nearly every major health organization recommends eating five to nine servings of fruits and vegetables per day to maintain health. Yet, according to the U.S. Department of Agriculture, less than nine percent of American adults consume the recommended number of servings. One way to make sure you are receiving the nutritional benefits of multiple servings of fruits and vegetables is through green food supplementation. That is why Perfect Food Super Green Formula Powder contains over 8000mg of greens per serving.

* One serving of Perfect Food Green Powder is equivalent to 140g of fresh grass juice.
* Excellent source of natural Vitamin A in the form of beta-carotene and a good source of natural Vitamin C.
* Contains spirulina that supports healthy immune function & algae and cereal grasses
that provide a natural source of alkalizing minerals
* Supports healthy carbohydrate metabolism.

GAR063 - PERFECT FOOD (10 grams) - $2.25
GAR06 - PERFECT FOOD (140 grams) - $22.95
GAR061 - PERFECT FOOD (300 grams) - $40.95
GAR062 - PERFECT FOOD (600 grams) - $70.95

GAR064 - PERFECT FOOD (75 caps) - $22.95
GAR065 - PERFECT FOOD (150 caps) - $40.95
GAR066 - PERFECT FOOD (300 caps) - $70.95
---
IMMUNITY SUPPORT
A properly functioning immune system is essential to overall health and well-being. Garden of Life Immunity Support products are formulated from whole foods and herbs that provide your body with nutrients to support a healthy immune system.
---
FYI
Joint and Tissue Food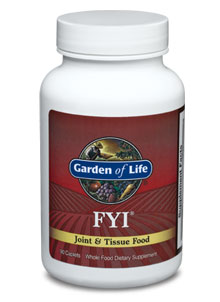 GAR03 - 90 caps

The ingredients in FYI include naturally occurring compounds that support normal joint function and mobility, as well as antioxidant function in the body. Certain ingredients in FYI - chicken collagen type II along with proteolytic enzymes and turmeric – provide support for normal joint function and mobility. These ingredients also support healthy metabolism in the connective tissue that is essential to maintain normal range of motion.
What's in FYI?
FYI contains chicken collagen type II, systemic enzymes and herbs chosen for their ability to support healthy joints.
Specific ingredients include:
Systemic Enzyme Blend, a combination of protein-digesting enzymes able to function in a wide range of pH environments.
Protease Blend - a combination of proteolytic enzymes shown to work systemically
Bromelain - a powerful protein-digesting enzyme from pineapple
Papain - a mixture of protein-digesting enzymes isolated from papaya
Additional enzymes in FYI include:
Lipase - a potent fat-digesting enzyme
Amylase - a starch-digesting enzyme
Cellulase - an enzyme that breaks down plant fiber
Other ingredients include:
Syrian oregano - contains antioxidant compounds and essential oils
Cat's Claw - a traditional Peruvian herb which supports the body's ability to fight free radicals
Turmeric Root - an antioxidant that has been shown to support normal joint function
Young leaves of Rhododendron caucasium - traditionally used as a tea, they contain a unique form of highly available polyphenolic antioxidants
GAR03 - FYI (90 caps) - $40.95
---
FYI Restore
Muscle & Tissue Recovery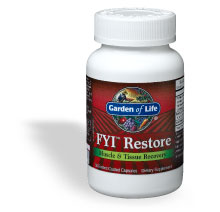 GAR032 - 60 caps

FYI Restore contains the ultimate broad spectrum systemic enzyme formula, delivering high proteolytic activity on the systemic level to work with the body's own processes to assist normal tissue repair and recovery. It delivers a comprehensive, highly potent range of systemic enzymes, bioflavonoids, antioxidants, and trace minerals that work together to support healthy connective tissue integrity and turnover.
* Provides high levels of bromelain and papain to aid normal fibrin turnover and support healthy microcirculation in overused tissue.
* Utilizes a natural, algae-based enteric coating to ensure targeted absorption in the small intestine for maximum effectiveness
* 100% vegetarian and vegan.
GAR032 - FYI RESTORE (60 caps) - $31.95
---
FYI ULTRA
Ultimate Joint & Cartilage Formula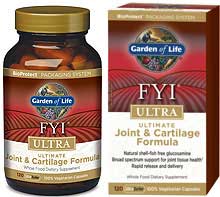 GAR031 - 120 caps

FYI ULTRA is the ultimate joint and cartilage formula, containing a broad spectrum of nutrients to support joint and connective tissue health. It is a multi-faceted formula providing clinically studied amounts of glucosamine from a shell-fish free source, along with a range of carefully selected natural antioxidants that assist the body's response to everyday wear and tear.

* Glucosamine supports the body's ability to rebuild cartilage tissue and maintain healthy joint status*
* Contains curcumin that supports joint and surrounding tissue volume and promotes healthy joint mobility
by optimizing the level of enzymes that normally participate in protective tissue response*
* Contains pomegranate which has an outstanding antioxidant profile to support the body's capacity to withstand
free radical damage in a variety of tissues, including cartilage tissue*
* Contains selenium, natural astaxanthin from red micro algae, and Boswellia to scavenge free radicals in joint tissue*
---
RM-10 ULTRA
Ultimate Immune Health Formula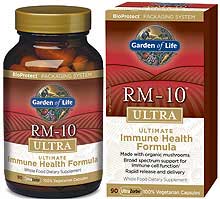 GAR102 - 90 caps

RM-10 ULTRA is the ultimate immune health formula, containing organic mushrooms and other specially selected nutrients to provide broad spectrum immune support via multiple pathways: immune cell function support, immune cell metabolism support, methylation support and antioxidant support. It contains a proprietary blend of organically-grown, tonic mushrooms that have been carefully selected and cultivated to maintain their genetic integrity (mushrooms have been used all over the world for many centuries for their health benefits).

* Contains betaine, folic acid, vitamin B12 and naturally occurring methionine to support optimal DNA methylation,
an important factor in regulating normal cell identity and growth
* Contains L-theanine, an amino acid found in green tea, to support healthy gamma delta T cell presence in the body,
important for proper immune function and host defense*
* Contains selenium which some scientific evidence suggests may reduce the risk of certain forms of cancer
(although the FDA has determined this evidence to be limited and not conclusive)
* Selenium helps maintain optimal glutathione production, the body's own antioxidant, and an important factor in immune health*
* Contains lycopene to help the body fight free radicals and support the healthy function of multiple cells and organs,
including the prostate*
---
Living Multi Optimal Formula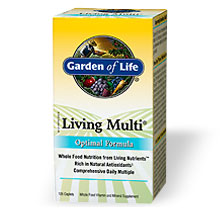 GAR24, GAR25, GAR26

Living Multi is a broad-based whole food vitamin and mineral supplement containing a potent blend of antioxidant–rich ingredients derived from naturally grown and organic fruits, vegetables, tonic mushrooms, sea vegetables, and botanicals, plus trace minerals that supply nutrients important for general health and well-being. It delivers a rich blend of antioxidants derived from naturally grown and organic fruits and vegetables. Antioxidants help your body deal with oxidative stress. It provides a range of nutrients to support immune health, which is valuable to overall health and well-being. Additionally, it provides a variety of carotenoids,
including lutein to support eye health.
GAR24 - LIVING MULTI OPTIMAL FORMULA (126 caps) - $34.95
GAR 241 - LIVING MULTI OPTIMAL FORMULA (252 caps) - $61.95

GAR25 - LIVING MULTI OPTIMAL MEN'S FORMULA (90 caps) - $34.95
GAR251 - LIVING MULTI OPTIMAL MEN'S FORMULA (180 caps) - $61.95

GAR26 - LIVING MULTI OPTIMAL WOMEN'S FORMULA (90 caps) - $34.95
GAR261 - LIVING MULTI OPTIMAL WOMEN'S FORMULA (180 caps) - $61.95
---
Living Calcium Advanced
Bone Density Support Formula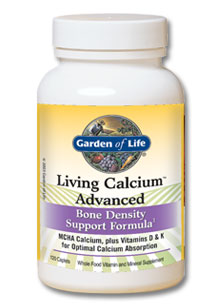 GAR29 - 120 caps

Living Calcium Advances is a comprehensive bone support formula that helps build and maintain good bone health.
It is an excellent source of MCHA calcium, along with a broad spectrum of vital minerals and nutritional co-factors
to help support healthy bone density.
* MCHA or Microcrystalline Hydroxyapatite is a highly absorbable, body friendly form of calcium. MCHA used in Living Calcium Advanced is derived from Australian, grass-fed, free-range cattle. MCHA calcium provides the mineral matrix of living bone including magnesium and phosphorus that helps support healthy calcium and bone metabolism.*
GAR29 - LIVING CALCIUM ADVANCED (120 caps) - $21.95
---
Living Vitamin C
Vitamin C & Antioxidant Blend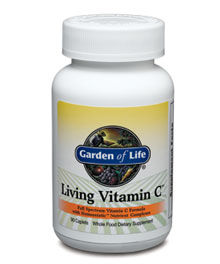 GAR27 - 120 caps

Living Vitamin C is an excellent source of natural vitamin C derived from the finest whole food organic ingredients.
(417% Daily Value per serving)

* Contains Lemon-Lime citrus bioflavonoids to support your body's ability to effectively utilize vitamin C*.
* Added benefits include a whole food Organic Antioxidant Berry Blend which helps protect your body against free radical damage*.
GAR27 - LIVING VITAMIN C (120 caps) - $26.95

---
Living Vitamin E
with
Vitamins A, D, K and Selenium
live Enzymes and Probiotics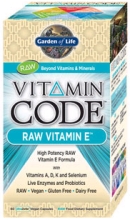 GAR82 60 caps $24.95
As a powerful antioxidant, vitamin E assists the body in fighting oxidative stress and supports a healthy cardiovascular system.* It is known for its free radical scavenging properties, helping your immune system to fight against the effects of free radicals. Determined to attack cell life in your body, free radicals may contribute to the weakening of the immune system.
Why Vitamin Code RAW Vitamin E?
Garden of Life's RAW Vitamin E is a comprehensive, whole-food, multi-nutrient formula made with RAW Food-Created Nutrients™ for targeted delivery of vitamins E, D, K, beta-carotene and selenium. Individually cultivated with their unique Code Factors intact, the RAW Food-Created Nutrients in Vitamin Code formulas enable natural recognition of nutrients by your body, just as nature intended. Code Factors are the known and yet to be discovered synergistic compounds found in food and are necessary for proper nutrient delivery. Providing these Code Factors infuses the essential elements of whole-foods that the body thrives upon. Supporting heart, eye, digestive, prostate and breast health, Vitamin Code RAW Vitamin E also provides immune system support.
Vitamin Code RAW Vitamin E is RAW, vegan, gluten-free, dairy-free and contains no binders or fillers. Taking this RAW vitamin E formula to the next level, Vitamin Code RAW Antioxidants also provides a RAW probiotic and enzyme blend along with a RAW organic fruit and vegetable blend for additional nutritional support.
Benefits of Adding Vitamins A, D, K and Selenium to Vitamin Code RAW Vitamin E
In nature, individual vitamins and minerals rarely work alone to accomplish their tasks. Instead they rely on the help of other vitamins, minerals and co-factors. Our Vitamin Code RAW Vitamin E is formulated to include these additional nutrients to more efficiently perform its vital functions in the body.
Vitamin A contains antioxidant properties to support eye health and when combined with vitamin E and selenium, also provides immune system support.* Also an antioxidant, vitamin K helps fight cellular oxidation in the body and supports normal blood clotting.* The combination of vitamin D and selenium in Vitamin Code RAW Vitamin E supports breast and prostate health.
Who May Benefit from Vitamin Code RAW Vitamin E?
Vitamin Code RAW Vitamin E may be of benefit to individuals with digestive system problems where nutrients are poorly absorbed from the digestive tract. It may also benefit those wishing to support heart, breast, prostate, eye and immune health.
Vitamin Code RAW Vitamin E Nature-Intended Benefits:
RAW - Vegan
Healthy Heart
Immune Support
Optimal Digestion
Breast & Prostate Health

Eye Health
---
OPTIMAL WELLNESS
---
Tea Trio
Synergistic Three-Tea Blend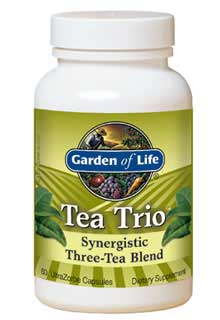 GAR07 - 60 caps

How is Tea Trio different from other tea formulas?
A synergistic combination of three of the world's most health-beneficial organic teas: rare organic white tea, organic green tea from minimally processed Camellia leaves, and organic black tea derived from a delicate fermentation process. Contains teas that have been carefully sourced and blended in a specific ratio to provide broader antioxidant protection and a more balanced range of naturally health-promoting tea bioactives than one or two alone. It provides the EGCG of up to 10 cups of tea.

Why do you need tea?
Tea has been used as a health-promoting beverage for over 5,000 years. Modern research has confirmed tea's extensive range of health benefits, including supporting antioxidant function, cardiovascular and cellular health, metabolism and energy levels. Tea leaves are phytonutrient-rich, naturally containing many health-positive characteristics, including polyphenols (especially EGCG),
L-theanine and caffeine.

Why should you use Tea Trio?
* Increases metabolism*
* Provides broad range antioxidant protection to support cardiovascular health, cellular function and longevity *
* Increases energy and alertness*
GAR07 - TEA TRIO (60 caps) - $17.95
---
Clear Energy
Mind and Body Power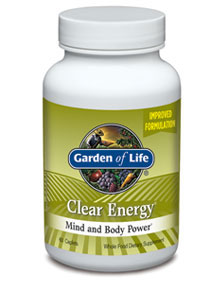 GAR201 - 60 caps
GAR20 - 90 caps

Clear Energy contains stimulant-free energy blends, including vitamin B and Rhodiola rosea, specially formulated to invigorate your body and awaken your mind.It supports energy and metabolism, physical and mental endurance, plus a healthy response to stress.
GAR201 - CLEAR ENERGY (60 caps) - $26.95
GAR20 - CLEAR ENERGY (90 caps) - $35.95

---