CERTIFIED GOJI BERRIES
---
Lycium barbarum:
The fruit of Immortality
---
Benefits of the greatest superfruit...
* Certified Goji Berries are an extremely rich source of carotenoids, including beta carotene.

* Contains the vitamin B Complex & vitamin E.

* Amino acids - a complete protein! 13% more protein than wheat.

* 21 trace minerals - zinc, iron, copper, calcium, germanium sesquioxide, selenium, and phosphorus, etc.

* Mature fruits contain about 11 mg. of iron per 100 grams.

* EFA's / Linoleic acid - promotes oxidation of body fat, supports production of lean body mass, enhances immune function & provides antioxidant protection.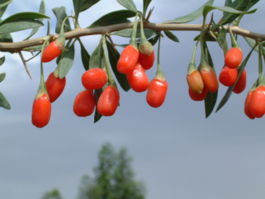 * Chinese trials report the Certified Goji berries begin to retard cell aging in as little as six hours after consumption!

* In Oriental medicine, the Certified Goji berry is said to correct chi deficiency, meaning conditions such as low energy, insomnia, heart palpitations and anxiety.

* Contains tetraterpenoids zeaxanthine, physalein, sesquiterpenoids, cyperone & solavetivone (anti-bacterial / anti-fungal).

* Goji berries have been shown to inhibit precipitation of fat in liver cells while promoting the regeneration of liver cells.

* The berries also contain Beta-sitosterol, a very powerful anti-inflammatory agent and betaine - 0.1%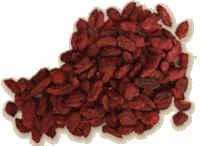 A Note From Phil Wilson
Owner of Momentum98
For more Goji products, check out the world's first 100% pure, undiluted, unadulterated, unsweetened,Goji juice containing all five known Lycium Barbarum Glycoconjugate Polysaccharides LbGp 1-5!

Go to the main Genesis Today Page




GNT10 - Genesis Today Goji100 - 32 oz
---
---