MOTHER ANITA'S
AROMATHERAPY BODY BALMS


Currently unavailable
---
---
COMFORT & BALANCE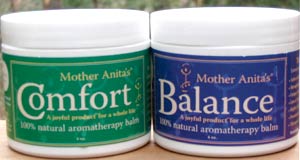 Comfort - MOT01 - 4 oz
Balance - MOT02 - 4 oz
Comfort:
Mother Anita's Comfort provides a synergistic effect which enhances the function of the parasympathetic, quieting nerve interference and acts to releases tense muscles and reduces inflammation in tissue. As a result, Comfort soothes and induces a deep sense of relaxation.

Comfort also serves to offer you less inflammation , and fewer repetitive motion injuries. Mother Anita's Comfort has no synthetic ingredients, but many organic, all natural. It is pleasantly scented and loaded with Vitamin E and Lanolin. Comfort aides in relaxing and supporting the musculo-skeletal system which helps to reduce inflammation in tissue and tightness in muscles. The 16 ounce size is economical and when used with wooden craft sticks, hygienic.
For deep tissue and effleurage, rapid or tissue flushing strokes combined with deep tissue strokes, Comfort balm can't be beat. Clients are often less sore following sessions where Comfort has been used.
Balance:
A fine body balm rich in lanolin & vitamin E. It is a blend of the therapeutic essential oils of lavender, rose geranium, vetiver and lemongrass.

This is a woman friendly product and aids in hormonal balance issues like cycles, menopause and pregnancy. Because it is able to provide a balancing effect for the physical body as well, it helps you settle into an equilibrium - if you're high or low physically.
Economical, highly concentrated, Balance gives you a therapeutic product with no known contraindications, just plenty of glide. It's even non- staining when used as directed!

A Note From Phil Wilson
Owner of Momentum98

Mother Anita's Comfort & Balance body balms are two of the best balms that I have seen in my decades experience within the health and massage tool industries.

What's not to love?
They are aromatic, rich balms that ease the aches that can come with a deep massage. You can use these balms for everything from alleviating aches, pains, owies to scars, bug bites, burns, sunburns and peeling cracked hands & feet.