HEALING BALMS & SALVES
---
---
** BEST SELLER **
EQUINOX BOTANICALS
GOLDEN SALVE
(formerly Golden Healing Salve)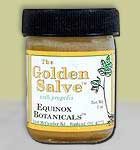 This Golden Salve can be used for wounds, burns, infections, skin rejuvenation,
sunburn, rashes,
chapped skin, diaper rash, cradle cap, dry noses or other skin abrasions.
It is one of the products we have been carrying the longest.
We recommend it for any kind of skin difficulties, especially cuts & burns.

It's one of those ointments that belongs in everyone's medicine chest.

For the life of me, it's a wonder that it's not more well known.
Anyone who gets tattooed in Columbus, Ohio usually makes
their way over here for a bottle of this precious salve.


Ingredients:
Olive, safflower & coconut oils, beeswax, propolis, goldenseal root,
comfrey root,
calendula, yellow dock, balm of gilead, vitamin E oil, gum benzoin.

Comfrey is known as the knitbone herb, Propolis is known for fighting infections,
and Calendula is a well known herb used for healing.

EQU015 - Golden Salve (0.25 oz) - $2.95
EQU01 - Golden Salve (1.25 oz) - $ 8.50
EQU012 - Golden Salve (2 oz) - $15.95
EQU014 - Golden Salve (4 oz) - $28.95
---
---
WHITE FLOWER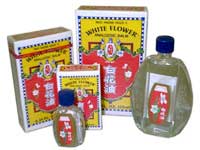 For the temporary relief of minor aches and pains of muscles and joints
associated with simple headache, arthritis, sprains, bruises, and strains.


Notice

: The label has changed on some of the White flower products to a white and blue label

What they don't tell you on the label is that...
It is wonderful for headaches & any kind of sinus problems.
(simply apply a small amount to temples, or in cupped hands and breathe...)

Ingredients:
Active: wintergreen 40%, menthol 15%, camphor 6%,
Inactive: eucalyptus 18%, Peppermint 15%, Lavender 6%

CHN15 - White Flower Analgesic Balm (0.67 oz) - $9.95 Not available
CHN151 - White Flower Analgesic Balm White and Blue Label (0.67 oz) - $16.95
CHN14 - White Flower Analgesic Balm (0.34 oz) - $5.95
CHN135 - White Flower Analgesic Balm (0.08 oz) - $2.00

---
---
WELEDA
ARNICA MASSAGE OIL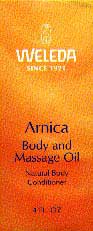 This unique oil is the natural accompaniment for massage.
Its aromatic layer of warmth relaxes tired and soothing muscles.
Provides a soothing comfort. Softens dry skin.
Use after bath or shower and before or after exercise.

Ingredients: peanut & olive oil, arnica montana & birch leaf extract, rosemary & lavender oil.

WEL01 - Weleda Arnica Massage Oil (4 oz) - $16.95 - 2 or more, $15.95 each
---
---
ATHLETIC RECOVERY OIL

ENS05 - Athletic Recovery Oil (2 oz) - $9.95
TEMPORARILY UNAVAILABLE
Formulated by Debra St. Claire, M. H.
Active Ingredients: Wintergreen & Capsicum
Fresh wildcrafted or organically grown extracts of: Arnica, St. John's Wort, Comfrey Root & capsicum in a base of Castor, Flax, Sesame & Wheat Germ Oils, lecithin, and Irish Moss with essential oils of rosemary, wintergreen & juniper.
---
---
ARBOR OIL
Australian Medicinal Eucalyptus Oil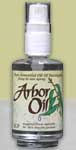 Medicinal Eucalyptus Oil - the best quality on the market for a GREAT price !

VAX03 - Arbor Oil Australian Medicinal Eucalyptus Oil (1.7 oz) - $8.95

Uses: Insect repellent
Eucalyptus is a great mosquito repellent.
Mix with citronella oil for best performance.
(use lavender or another favorite essential oil for fragrance)
Relief of muscular aches and arthritic pain
• May assist in the management of sprains and strains
• Helps prevent stiffness and soreness
• For the systematic relief of fibromyalgia
• Great for athletes, sports players, and joggers
• For Arthritis, Rheumatism, Lumbago and Fibrosis's
Spray directly on affected area and massage well. For intense treatment, apply a hot compress to the affected area for five minutes. Spray a generous amount of Arbor Oil on a clean, dry washcloth and apply to the affected area for five minutes. For massaging, Arbor Oil may be mixed with a carrier oil (grapeseed, apricot, coconut, vegetable oil etc.): add 10 drops of Arbor Oil to 20 ml of carrier oil and work by hand into the affected area.
Use in all kinds of filters
(air conditioner, humidifier, etc.) to clean the air, remove mold and air bound germs.
Dust mites
spray on infested area (bedding, sofa, chairs etc.) twice per day for 1 week
Sauna
Spray on hot rocks
Allergies/ Sinuses
Spray in a tissue and breath in for general relief
Other great uses
Disinfectant
Air freshener
Stain Remover
Laundry Pre-wash
---
---
TIGER BALM PRODUCTS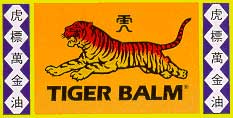 Tiger Balm is so famous it is almost unnecessary to write of its benefits.
(I remember reading a long time ago that Joe Montana not only goes for the BOMB,
but he also goes for the BALM (TIGER)
.
Tiger Balm is a sports rub, for sore muscles & overexertion.
It is a pain relieving ointment.
It has been used by over one third of the the world's population for nearly 100 years.
More than 20 million jars are sold in over 70 countries.
Tiger Balm now comes in many forms to suite your needs.

WHITE - REGULAR STRENGTH
CHN07 - White (4 grams) - $1.95
CHN09 - White (8 grams) - $2.69
CHN11 - White (18 grams) - $7.50


RED - EXTRA STRENGTH
CHN06 - Red (4 grams) - $1.95
CHN08 - Red (8 grams) - $2.69
CHN10 - Red (18 grams) - $7.50

---


ULTRA SPORTS RUB
CHN30 - Ultra (8 grams) - $2.95 CHN27 - Ultra (18 grams) - $8.50
CHN251 - Ultra (50 grams) - $13.95


LINIMENT
CHN195 - Liquid Liniment (2 oz) - $8.50

---

2 oz Topical Analgesic Cream Fast relief of aches and pain.
Effective for pre-exercise warm up. CHN28 - Muscle Rub (2 oz) - $5.95

External Plaster Patch. Stretchable - Removes Easily
Not Messy or Greasy CHN29 - Patches (5 per pack) - $5.95

---






Arthritis Rub




CHN31 - 4 oz - 13.95







Neck & Shoulder Rub




CHN33 - 1.76 oz - $9.95



---
Kwan Loong Oil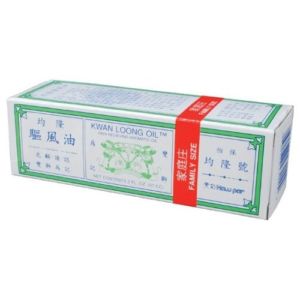 Kwan Loong Oil
CHN196 - 2oz - $8.50
CHN197 - 1oz - $4.95
---