OLIVE GOLD 03
SUPER OXYGEN FOR YOUR BODY AND MIND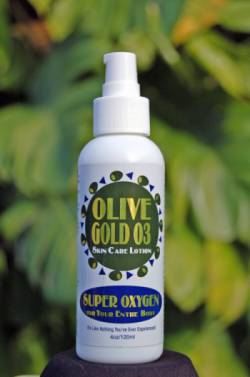 .
NEW LAVENDER AND ROSE SCENTS AVAILABLE OLIVE GOLD 03:
A MIRACULOUS Multi-Purpose Topical Lotion,


for Health and Beauty that May Help With:
Neutralizing toxins by Adding an Abundance of Ozone/Oxygen plus other Vital Harmonious Elements
Creating Greater Brain Function, for Alertness and Mental Clarity
Oxygen Enriched Blood
More Energy to the Muscles, Providing Greater Performance with Less Ache and Pain
Enhancing the Metabolism, allowing better Digestion and Detoxification
Superior Assimilation of Nutrition
The Ability to Neutralize Harmful Pathogens, Bacteria, Viruses, Fungus and Chemicals, etc.
Smoothing Fine Lines & Wrinkles, adding Texture to the Skin
Assisting Production of Collagen
Protecting, Nourishing and Moisturizing the Skin
Helping to Resolve a Variety of Skin and Related Issues
Increasing a Reserve of the Body's Oxygen
Promoting a Greater Life Force
Radiant Appearance & Health!
What Is Olive Gold O3?
Olive Gold 03 is a perfect proprietary blend of SUPER OXYGEN, in an all natural organic olive oil base,
with super-charged vitamins (A, B's, C, D, & E), 72 minerals, alpha-lipoic acid, Exotic Botanical Essence and fragrance.
OG3 inherently is hypoallergenic.
Nothing harmful to humans or animals can live in it.

Contains no: corn, sugar, soy, starch, wheat, yeast, preservatives, synthetics, or GMO derived sources known.
OG3 is Multi-Purpose lotion for health and beauty which may help:
Provide more energy to muscles (ozone/oxygen content) resulting in greater performance and less pain.
Provide greater brain function for mental clarity
Provide abundant oxygen to enrich the blood
Enhance metabolism, allowing better digestion and detoxification
Neutralize pathogens, bacteria, viruses fungus and chemicals
Provide a healthy younger looking skin
Uses Of Olive Gold 03
ACNE- Apply OG3 after washing your face, or using a facial clay mask.
Circulation to the skin is improved, as it helps to detoxify and prevent blemishes.
ADD/DHD/BIPOLAR-Apply OG3 around the heart, both temples, back of neck and underside of both wrists.
In about 10 minutes a calming and feeling of well-being should manifest.
ATHLETE'S FOOT- Wash and clean feet. Apply OG3 to dried area, 2-3x's daily. Ozone/Oxygen, is a very strong anti-fungal.
BRUISES-Inflammation is reduced after OG3 is applied, helping to strengthen the cell tissue, as is assists to quickly heal.
CHAPPED LIPS-Moisturize lips by applying OG3 and feel your skin become nourished.
CUTS, WOUNDS AND BED SORES-OG3 is a foremost choice for FIRST-AID REMEDY. Various skin abrasions, sores, wounds, and scrapes are gently disinfected with strong healing and disinfecting capability. OG3 may act similar to anesthetic with little or no sting.
Ozone creates Oxygen, producing a rich flow of blood, binding hemoglobin, as it relieves and repairs.
EAR ACHE/TINNITIS-Apply OG3 to painful area. Lightly massage in as pain begins to lessen.
In addition, soak a small cotton ball in OG3 and carefully place in outer ear.
(This really works, I had a client try it and her ear ache was gone in less than an hour.)
LIVER DETOXIFICATION- Before bed, apply 1/2 Tsp. of OG3 over liver area. This helps speed detoxification of liver.
There's a great synergy with the appropriate nutritional supplements. The results are amazingly fast.

Additional Uses:
Mosquito Bites & Bee Stings
Nail Fungus
Scalp Conditions
Shingles
Sunburn
Sun Spots (Fungus)
Undesirable Skin Lesions
Migraine Headache
Heart Pain
Application: A few drops (4-5) goes a long way. Massage gently and as often as needed. May increase amount of drops as needed. 1-2 drops may suffice for cosmetic purposes. Best not to mix with creams, but to use pure.

Comes in 2 oz and 4 oz bottles. You only need 3-5 drops of OG3! One bottle will the average person last a long time!
---
SUGGESTED USE:

All application of Olive Gold O3 may start with 3-5 drops
and can be increased as needed as the body heals itself.

Healing depends on how deep-rooted the problem is. For cosmetic applications, in many instances,
1-2 drops may satisfy your needs. Mixing other creams with OG3 may cause a reaction.

Unknown chemistry of cosmetic may not be compatible. Discontinue use and apply pure OG3
to other areas. Reactive areas should clear relatively shortly thereafter
.

Go to Olive Gold Liver-Gallbladder flush suggestions
.

-ACNE: Apply OG3 after washing your face or using a facial clay mask. Circulation to the skin is improved,
as it helps to detoxify and prevent blemishes. Works great!

-ADD / ADHD / ASTHMA / AUTISM / BIPOLAR: Apply OG3 to the heart, stomach, both temples of forehead, back of neck, both under arms (males - scrotum too), underside of both wrists. In about 10 minutes,
a calming a feeling of well being should manifest. For asthma, apply 5-6 drops on back. A feeling of relief should follow!

-ALLERGIES / SINUS / TOOTHACHE: The same as for migraine headache. Also apply a few drops around nose and eyes.
For toothache, apply on outer area of mouth.

-ATHLETE'S FOOT: Wash and clean feet. Apply OG3 to dried area 2-3 times daily.
Ozone/ Oxygen is a very strong anti-fungal agents.

-BRUISES: Inflammation is reduced after OG3 is applied, healing to strengthen the cell tissue as it assists to quickly heal.

-CHAPPED LIPS / CELLULITE: Moisturize lips by applying OG3 and feel your skin become nourished. Lips soften
while it helps rapidly heal and kill pain. For cellulite apply directly to area as needed.

-CRADLE CAP: Apply a mixture of 1/2 tsp of OG3 with equal parts of mild organic, natural,
or baby shampoo to the scalp. Healing should begin as inflammation decreases.

CUTS, WOUNDS AND BED SORES: OG3 is like a fist aid remedy in a bottle. Various skin abrasions, sores, wounds, and scrapes are gently disinfected with a strong healing capability. OG3 may act similar to anesthetic with little or no sting.
Ozone creates oxygen, producing a rich flow of blood, binding hemoglobin, and it relieves and repairs.

-DIAPER RASH: Apply OG3 2 times daily. It helps heal and reduce inflammation quickly. Babies love it!

DERMATITIS / ECZEMA /PSORIASIS: Apply OG3 2 times daily to affected areas.
For lipodermic bath, add 1-2 tsp. This should produce a soothing and healing effect.

EARACHE / TINNITIS: Apply OG3 gently to painful area. Lightly massage as pain begins to lesson.
Soak a small cotton ball in OG3 and carefully place into outer ear.

-HEMORRHOIDS AND FISSURES: To relieve itching, pain and irritation, apply OG3 to anal area, 2-3X daily until healed.

-LIVER DETOXIFICATION: Before bed, take rub a few drops of OG3 around liver area. It helps speed
detoxification of liver. It synergizes with the supplements for quicker, better results!

-MOSQUITO, SPIDER AND ANT BITES / BEE STINGS: Apply OG3 to area and rub gently.
It acts as an antiseptic, relieving pain while taking the itch out and promoting healing.

-MUSCULAR ACHES AND PAINS: Massage OF3 onto affected area.
Muscular spasm and cramps receive relief almost instantly.
It's great for lower back and neck, arthritis, and other pain. OG3 along with a health practitioner can do wonders!

- NAIL FUNGUS - Carefully cut nail as needed, to expose fungus and apply OG3. Bandage as necessary.
Fungus and bacteria cannot live in highly ozonated/oxygenated environments.

-PERSPIRATION / UNDER ARM IRRITATION: Rub in gently until absorbed. OG3 is completely gentle, safe, effective and neutralizes odor. Will not stain clothing! OG3 will not cause rashes the delicate tissue. For females, the major lymph nodes (vital circulatory system) are under the arms, and for men, the scrotum.
OG3 allows the lymphatic system to breath as never before!

-SCALP CONDITIONS / DANDRUFF, etc.: Wash hair and massage OG3 into scalp.
Wrap hair in a warm towel and leave for 1/2 - 1 hour as needed.

-SHINGLES (Herpes Zoster): Apply OG3 2-3 times daily. Lesions may heal very fast, while pain subsides.

-SUNBURN/ BURNS: Provides instant relief to burns and rash, including sunburn. Will not cause blistering.

-SUN SPOTS (Fungus): Sun Sports rapidly disappear. OG3 has a soothing moisturizing anti-fungal action.
Apply directly to area at least 2 times daily.

-UNDESIRABLE SKIN LESIONS: Mix a few drops OG3 with liquid vitamin D.
Apply a few drops to lesions 2-3 times daily or as desired.

-MIGRAINE HEADACHE: Apply 4-5 drops of OG3 to both sides of temple and forehead and back of neck.
Also, massage in upper corner of eyes, above the nose.

-HEART ACHE & PAIN: Apply drops of OG3 around the heart as needed.

-FOR DOGS, CATS, & HORSE, etc.: Bites, pain, and other issues is relieved, redness and inflammation is reduced,
and skin heals with OG3. Dilute with olive oil and with a sponge, apply 1-2 drops to affected area for smaller
animals or 3-6 drops for larger animals. Dogs benefit from applications under paws and inner ear. Horses enjoy
application to chest and ears. Add to food for shinier and healthier coat (1 drop per 3 table spoons olive oil).

-PREVENTION AND MAINTENANCE: For best results, apply OG3 at least 1-2x daily. After shower or bath, massage underarms, around the heart, back of neck, and elsewhere as needed. It should fully absorb in 10-15 minutes.
Can be applied to face, back and temples .
Testimonials
AUTISM:
I am so grateful to have met you and your OLIVE GOLD 03. My kids are incredible and I am so lucky to
have them recover. They're 8 year old Twins, we and they are getting better emotionally due to the healing.
I work with Anju Usman MD., who treats kids on the Autistic spectrum, from all over the world.
After seeing the results of our kids, she bought a bottle for personal issues. Jane Casey-Mom, Chicago, IL
PSORIASIS:
I was diagnosed 1 year ago with PSORIASIS. I did not want to use the new Biologic Drugs by Injection,
because of their side effects. I tried Product after Product, but nothing helped my PSORIASIS until I came across
OLIVE GOLD 03. OG3, Hydrated and Softened My PSORIASIS. It had been 1 Month since I started using OG3.
Some of the Smaller Lesions are Gone. The Larger Lesions are improving and I expect full Resolution.
Thank You OLIVE GOLD 03! Dr Thomas Kleinman, D.C., Atlas Chiropractic, Palm City, FL
SCIATICA/ BAD HIP / BURNED/ HEART/ WRINKLES:
I Would love to tell anyone about OG3. I have had a very bad hip and Sciatica for years. In talking with Philip,
I decided to try a bottle. Within a few minutes the Pain Stopped in the hip and I could actually walk without pain.
I could not believe that this was real! Yet OG3 did it! I'm amazed and thankful for this Amazing Product.
I went to a tanning salon, forgot protection and was Severely Burned. I rubbed OG3 on, within 10 minutes
the Pain and Burning Stopped!! Even my Mother, who has a heart condition, rubs OG3 around the Heart and the
Pain Goes Away! We also use it on our face for wrinkles. Unbelievably, we can see the very tiny wrinkles disappearing.
I don't know how I lived without OG3 in my life, but now that I have found it, I Will Never Be Without It!!!
Mary Finnell, Head Coffee Roaster—Whole Foods Market, P.B.G. FL
MIGRAINE HEADACHE:
After using OG3 for 2 days, My Migraine Headache Went Away!
have been using OG3 for 1 Month now and haven't a Headache of ANY KIND since using OG3.
It's Terrific! Darlene, Dr.'s Assistant, Stuart FL
BITES / SORES/ PAIN / ENERGY:
I had Sores on my legs and hand, due to Mosquito Bites.
I never experienced such fast healing and Disappearance of Skin Blemishes as with OG3.
In addition I had Leg Encrusted Sores and Pain. In less than 2 days, the Encrusted Sores were Gone and No Mark
left on the Skin. The Pain was Alleviated and I felt a Boost of Energy, after Rubbing on OG3. Tony, CT.
DRY SKIN / GROWTH ON A GREYHOUND:
This morning at the end of my shower, I rubbed OG3 on all over while
still wet and It Felt Great! It felt like my body was drinking it in and really needed it . We live in a very dry climate
and this is going help my Skin. We applied OG3 on a Greyhound that had a nasty growth. It fell off in 3 days completely! Thank Your OG3! Amy Snow, Tall Grass Animal Acupressure Institute, Larkspur, CO.
SUPER HEALING BENEFITS, FOR INTEGRATIVE MEDICINE:
Our Clinic will administer, in Practical Terms,
what works for the Patient! Treatments are by a variety of Mainstream and Alternative approaches. Homeopathy,
Nutrition, Colon, Chelating and Ozone Therapy are some of our Cutting Edge Modalities.
Continually, OLIVE GOLD 03 has done Wonders in Pre, Post and During Treatment.
Patients want more immediate results and report overwhelming advancement in their comprehensive health
and well being by using OG3! Across the board, OG3 is a Favorite of ours!
Dr. Leonard Haimes M.D.- The Haimes Centre Clinic, Boca Raton, FL
NEUROMUSCULAR THERAPY:
OLIVE GOLD 03 is a Beautiful Product! As an LMT, I do Neuromuscular Therapy
and other forms of soft Tissue Body Work. I apply 20 specific Techniques in approaching problems of pain.
This releases muscle spasms and to restore normal Tonus to the body. OLIVE GOLD 03, seems to break the Stress, Tension and Pain Syndrome. I have used many different products. But I personally use OG3 daily, for General Maintenance.
Barry Brantley, LMT, #MA0014465, Jacksonville, FL
SUN SPOTS / FACE LINES / NUMB THUMB & TOE:
OG3 is working for me. My Face is Clear, Lines Lightening, Scares are 98% Gone and my Left Toe is almost
Completely Healed! My Therapists are delighted with their work and OG3.
I can make a fist with my Right Hand, and I CAN FEEL IT. I haven't been able to that for a year.
My Grip is almost all the way back to normal (if you remember, I was in a car wreck and one of my injuries
was losing circulation to my Thumb & Toe). My Family uses OG3 and Loves It!
Kimberly D.— Medical Writer, Springfield. MO.
WRINKLES / FINE LINES / COMPLEXION:
The Most Noticeable Benefit from using OLIVE GOLD 03, is
My Complexion. I've used various Skin Care Products, Now having used OG3, My Skin is More Moisturized
& Noticeably Less Fine Lines and Wrinkles. OG3 is great as a Makeup Base and Remover too!
My best friends keep looking at me wondering, if I have had anything done? -- Sue Stewart, Sales-P.B.G.,FL
SCALP CONDITION / ECZEMA/ COMPLEXION:
OG3 Rid my Flaky Scalp due to Eczema, Made my Hair look Shinier. I have a Healthier Looking Complexion.
Irritation due to Razor Burn was quickly gone. I put OG3 on my neck & shoulders after a long day at work to
help me Relax! Awesome Product! -- Erica Rego, Customer Service, WHM PBG.FL
ACNE / BAD SKIN:
I have used the majority of products for my Acne, nothing helped and some made it worse!
I was afraid to use anything. After 2 weeks using OLIVE GOLD 03, WOW! My Acne is so Much Better and My
Bad Skin is Clearing Up. My Skin was Softer and Healthier for Sure! -- Lauren, Front Desk—Salon Margrit, P.B., FL
NASCAR PERFORMANCE / FASTER HEALING / PAIN RELIEF:
My wife Bekki and I, are Health Practitioners for NASCAR and Professionally train young Race Car Drivers. After a Variety of Tests, we have determined: Our Top NASCAR Drivers have Increased their Performance Overall by 4%,
using OLIVE GOLD 03! The NASCAR Driver's Vision, Endurance, Energy, Stamina, has improved dramatically.
Back, Neck, Shoulder Aches and Pains (associated with the intense stress of racing) Diminished! We normally
have healed bone fractures in 10 days. With OG3 the same, was done in 5 days with Improved Quality of Healing.
Dr. Dennis Medsker D.C., Medsker Racing College–Florence, S.C.- OLIVE GOLD 03 IS A PERFORMER!!!


---
---
Information provided on this page is for educational purposes only.
These statements have not been evaluated by the Food and Drug Administration.
This product is not intended to diagnose, treat, cure or prevent disease.
---