thermophore, thermaphore, moist heat bag, medical therapy, moist relief, physical therapy, Thermophore
Last Updated: 4/5/11

Shop Our Online Store:

Since 1980!

Momentum 98
Natural Health Store

Taking Advantage of the Moment!




Propelling Yourself into Greatness!
---
HOME
MASSAGE TOOLS
WELLNESS PRODUCTS
NUTRITIONAL PRODUCTS
Portable FIR Saunas
Massage Oils & Balms
Charts
Decoder Charts
Magnets
Willard Water
---
Please visit our health store in Clintonville, we would love to meet you !
3509 North High Street, Columbus, Ohio 43214 - DIRECTIONS
We're open 7 days a week ! Hours: M-F:10-7, Sat:10-6, Sun:12-6 EST
PHONE: 1-800-533-HERB (4372) & 614-262-7087 -EMAIL: moment98@gmail.com
---
THERMOPHORE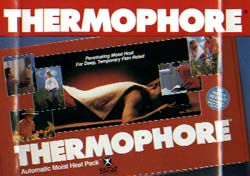 Thermophore produces intense,
moist heat for fast relief.
The application of moist heat is a commonly prescribed therapy in medical practice today,
and the Thermophore Hot Pack is the method physicians recommend most often.
Moist heat increases circulation and speeds recovery by bringing in fresh blood cells and taking away the waste which may hinder healing.
These beneficial results continue for several hours after treatment.

The application of moist heat, known as fomentation,
is especially useful in treating back pain
caused by muscle spasms from strain and tension.

The Thermophore Hot Pack, and rest, will gradually relax the muscle in spasm, restoring its natural length and relieving pain. The moisture produced by the Thermophore Hot Pack
transfers the high heat deeper into tissues than an ordinary dry heat pad.
Arthritic and rheumatic pain is often temporarily relieved with the use of moist heat.
The increased blood flow can relieve the inflamed joints and help maintain flexibility.



Thermophore produces its own moisture !
NO WATER NEEDED.
The Thermophore Hot Pack produces moist heat automatically by drawing moisture from humidity in the air and retaining it in the hot pack's outer flannel cover.
The rapid heat rise occurring when the hot pack is turned on forces the moisture
out of the flannel onto the patient's skin, speeding temporary relief to the treated area.

Momentary switch for better heat control:
A hand-held momentary controlled by the patient, turns the hot pack on and off,
and allows the user to maintain the highest temperature possible.

When to use the Thermophore Hot Pack:
Thermophore Hot Packs should be used at the first sign of muscle spasm or joint pain.
A Thermophore Hot Pack treatment is especially useful to help temporarily relieve pain
caused by muscle spasm or inflammation after a day of recreation, gardening,
jogging or household chores.
A size for every need:
The standard-size Thermophore Hot Pack, which is 14" x 27",
can cover the entire spine or other large areas of the body.
The medium-size Thermophore Hot Pack, measuring 14" x 14",
treats smaller areas of localized pain, ie., a knee, shoulder or ankle.
The petite Thermophore Hot Pack is designed for use on the cervical spine,
neck, throat, shoulder, sinus or TMJ. It measures 4" x 17".
A muff is also available for hand pain.
---
How To Purchase Items
Click the Add To Cart button beneath the product description to purchase the item. A shopping cart will appear on the right side of the screen. You can continue to add items from different pages on our site, then when you are ready to check out simply click on the cart icon, and click Checkout.


Contact Momentum98.com to purchase any item that does not have an Add To Cart button. You can purchase the item by email at

moment98@gmail.com

or by telephone at

614-262-7087

.


Read our terms and conditions of sale.
| | | | |
| --- | --- | --- | --- |
| CODE | PRODUCT | PRICE | 2 OR MORE |
| THM01 | Thermophore - Large - 14" x 27" | 69.95 | 64.95 |
| THM03 | Thermophore - Medium - 14" x 14" | 55.95 | 50.95 |
| THM02 | Thermophore -Petite - 4" x 17" | 45.95 | 41.95 |