THE ORIGINAL
Willard Water
as popularized on 60 Minutes on Nov. 23, 1981

Willard Water is a 'catalyst altered' water discovered by Dr. John Willard while studying in South Dakota, and while working on his ranch. It was first brought to national attention in the early 1980s when a 60 Minutes television special highlighted a range of reports of Willard Water's beneficial health results in both humans (people recovering from severe burns and emphysema) to cows becoming healthier.

Go to the transcript of 60 minutes TV show in Willard Water

---
Willard Water Products
What is Willard Water?
Reported Uses
Dr. Willard on 60 Minutes
---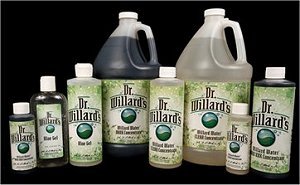 Why is lignite added to the "XXX" Formula ?
Go to Lignite Information Page

Active ingredients:

Water, sodium meta silicate, sulfated castor oil, calcium chloride, magnesium sulphate, fossilized organics and lignite.
Laboratories, including the FDA, have tested Dr. Willard's Catalyst Altered Water and found it to contain only NON-TOXIC ingredients.
Directions:

Shake well before use. Mix one ounce of Willard Water to one gallon of distilled water. Use a plastic bottle. No waiting/ no freezing required. Makes 8 gallons of ready-to-use water.
---
---
WHAT IS WILLARD WATER?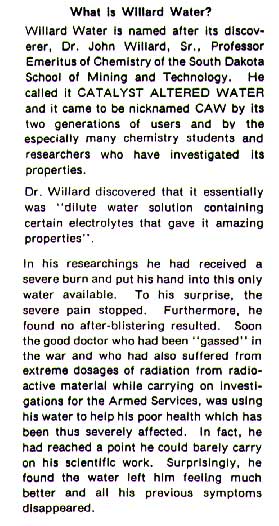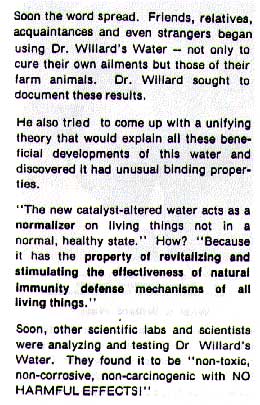 Dr. Willard, a 76 year old Professor Emeritus of Chemistry,
discovered the solution while developing a cleaning agent.
---
---
REPORTED USES

Plants and gardens
* Soak starting seeds: plants sprout faster, grow bigger, better resistance to droughts & freezing temperatures.
* Prolongs life of cut flowers; spray plant & dip cut ends in WW; add to vase.
* Outdoors: spray foliage several times during growing season. Helps transplants.
Pets and animals
Click here for more information on benefits to animals
* Helps heal cuts and bruises (spray on).
* Helps relieve stress and heat (put in drinking water)
* Pink eye (spray on)
* Fever or dehydration (add tablespoon to drinking water)
Fish
* Add one cup to tank. You won't need to change tank water as often - fish thrive.
Humans
* Sores or sore throat (spray on area)
* Tired aching muscles (add 1 cup to bath water)
* Pimples & acne (spray on face)
* Infections (spray on area infected)
* Arthritis/rheumatism (spray or rub on affected area).
* Hangovers - 1-2 oz in water.
* Burns & sunburns: alleviates pain and helps heal. (Spray on immediately and as needed)
* Diaper rash: bad cases cleared up in 24-48 hours when sprayed on baby's bottom.
* Headaches/migraines (1-2 teaspoon in water with other remedies)
* For feeling of well being as well as help on such internal ailments as ulcers, colitis, bladder infections
(1-2 teaspoons with drinking water)
---
---
DR WILLARD
ON A 60 Minutes TV REPORT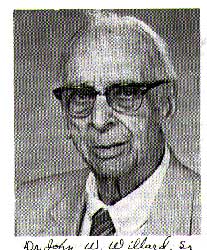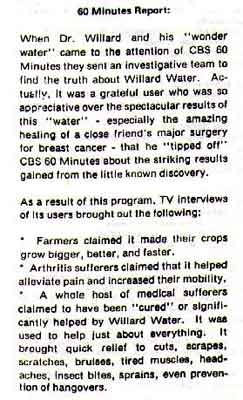 In 1981, the TV program 60 Minutes did a story on Dr. Willard's "Wonder Water." A summary of their investigative report appeared to be a "Snake Oil Salesman's" claim.
It was touted as:
Many call it a "cure-all", others a "do-it-all."
All around household product.
Effective gardening aid.
Used by people for an assortment of ailments from arthritis to emphysema.
Helps to heal burns and skin cancer.
Pain reliever - from migraine headaches to tennis elbow.
CAW INDUSTRIES, INC. DOES NOT ENDORSE CLAIMS OR HAVE SCIENTIFIC PROOF THAT ITS CATALYST ALTERED WATER PRODUCTS ARE EFFECTIVE IN THE CURE, MITIGATION, TREATMENT OR PREVENTION OF DISEASE IN MAN OR ANIMAL.
---
---