---
| | |
| --- | --- |
| | |
| | MAS792 |
These are the famous still point inducers made by
the people who created Cranial Sacral Therapy,
which is one of the most pleasant kinds of "body treatment" a person can get.
Not only is the treatment pleasant, it is extremely therapeutic, and we recommend heartily
for you to find a cranial sacral therapists to work on you.
Meanwhile, and in between treatments, this little device can help you find that
"still point" within you, which when you experience, you can then allow magic to happen,
as you can be filled with an influx of deep calm, and awareness.
These are great little tools, and after many requests, we are very pleased to present these to you, and have them available for you.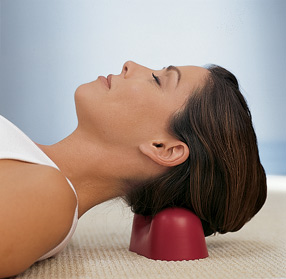 By resting your head on this little device (near the occipitals), you may be able to :
Relieve headaches and muscle pains
Enhance your immune system efficiency
Encourage your body's natural health
And this is only part of the magic that can happen...
The still point inducer can help relieve pain and discomfort
by creating a pause called a still point to strengthen the central nervous system.
You can use this effective product every day to help alleviate problems
with infection, congestion, headaches, musculoskeletal problems,
or whenever you want to release stress and unwind.