LARREA TRIDENTATA
IN LARREARX PRODUCTS
The active ingredient in all the LarreaRx products is an extract of the ancient desert plant Larrea Tridentata.
This powerful plant, commonly known as the creosote bush, offers some unique healing powers.
Native American Lore tells the story of Larrea as being the first plant created by the Earth Maker.
Some currently living Larrea plants are over 11,000 years old.
Plant derived antioxidant - Natural antibiotic against bacteria fungi and yeast
Highly effective anti-inflammatory - Fights virus replication in the body
Traditionally used for:
- Cold sores
- Shingles
- Chronic Fatigue Syndrome
- Irritable Bowel Syndrome
- Eczema
- Psoriases
- Allergies
- Immune support
- Joint Pain and Inflammation
- Viral warts
- Herpes sores & lesions
- Epstein Barr
- Bells Palsy

The Larrea plant offers some unique benefits but is particularly effective in fighting viruses.
It offers invaluable immune support but also has the ability to stop viruses replicating in your body.
It also boasts effective anti-inflammatory properties, which make it particularly useful in preserving skin health
and thereby helps with skin conditions like Eczema and psoriases.
It is also effective against joint aches and pains especially those associated with inflammatory conditions.
Virastatin is a patented extract of Larrea Tridentata.
Virastatin products represent the coming together of lessons from ancient medicine
with the technology of modern science in a synergistic fashion.
The proprietary extract contains all the beneficial phytochemicals from the Larrea Tridentata plant in
a form that is highly purified and concentrated.
This product has been developed over a decade of research and is proven safe for supplemental purposes.
Virastatin accentuates the body's natural defenses and is a powerful antioxidant.
It also supports a healthy nervous system, sustains joint health, and preserves skin health.

larreax is the result of more than ten years of research and development. A unique patented extraction
and processing method has turned an ancient desert plant, Larrea Tridentata into an extraordinary health enhancing formula. The larreax family of products have been clinically tested by independent medical professionals
and are supported by four US patents.
Some of the unsurpassed health benefits:
* Unique blend of plant –derived antioxidants
* Scientifically proven natural antibiotic
* Highly effective anti-inflammatory
* A powerful and safe product protecting us from the damaging herpes viruses
*These products are all natural and are produced in an environmentally friendly manner which does not damage or deplete our natural herbal resources.
---
---
LARREARX CAPSULES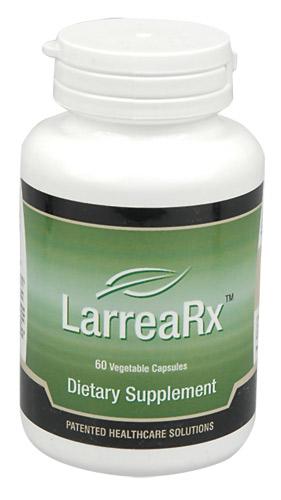 VIR13 - 60 caps
Made from the Larrea Plant.
Each capsule contains 50 mg of Virastatin.
These capsules contain the extract of the Larrea plant called Virastatin and Vitamin C as ascorbic acid.
---
---
LARREARX LOTION
(Currently Unavailable)

VIR12 - 1 oz
Each gram contains 10 mg of Virastatin (patented extract of Larrea tridentata),
ascorbic acid, clove oil, & calendula oil in an alpha tocopherol cream base.
---
---
LARREARX PENETRATING SPRAY

VIR14 - 2 oz spray

Each gram contains 10 mg of Virastatin (a patented extract of Larrea tridentata)
---
---
Treating Herpes Naturally with Larrea Tridentata

Cover Price is $10.95 - Now On Sale for $6.95
or $5.00 with the purchase of any LarreaRx or VRL-X product!
An effective natural remedy for Cold sores, Genital herpes, Shingles, Chickenpox, Epstein-Barr,
and other herpes outbreaks.
by Dennis Clark, Ph.D.


BOK033
Although this book appears only to be addressing the Herpes Virus (i.e. Title),
it actually points out the benefits of naturally treating ALL viruses.

---
We here at Momentum98 have witnessed the increasing cost in Larrea based products (such as LarreaRx) and now offer an cost effective alternative.
Go to the Main VRL-X Page for more info!
Olympian Labs VRL-X combines the antioxidants Vitamin C and the Mineral Zinc in a synergistic blend of an essential amino acid and herbal extracts that have shown promise in supporting the immune system and promoting homeostasis.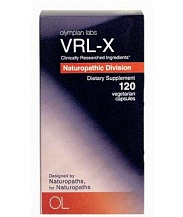 OLY31 - 120caps
Supplement Facts
Servings Size: Four (4) Capsules
Servings Per Container: 30

Amount Per Serving:
Vitamin C (Ascorbic Acid) - 60 mg - 100% RDA
Zinc (AAC) 15mg - 100% RDA
Proprietary Blend - 3212 mg

(Self Heal (Prunella vulgaris), Lysine,
Olive Leaf Extract, Clove Flower
Powdered Extract (Syzygium
aromaticum), Bitter Melon (Momordica
charantia), Rosmarinic Acid, and Acerola
Extract (Malpighia glabra)).
The primary component of VRL-X is the herb Prunella vulgaris, which goes by the common names "Self Heal, Heal All, All-Heal or Woundwort" and has been used in herbal medicines for assisting
the body's defenses fighting viral infections. The amino acid Lysine and Olive Leaf extract are also added for their anti-viral properties. Rosmarinic Acid is a potent antioxidant, more powerful than Vitamin E and Acerola is a natural source of Vitamin C.