VITA-MYR
Toothpaste
Mouthwash


VITA-MYR Toothpaste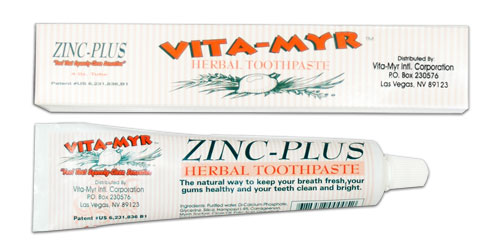 VTM04 - 4oz
VTM05 - 1oz - Unavailable
Formulated using Zinc, Folic Acid, Clove and Myrrh, which are found in our mouthwash, with the additional ingredients needed to make it an effective and pleasant toothpaste.

The additional ingredients are:
Purified water
Dicalcium Phosphate- White, tasteless, crystalline powder. A source of calcium.

Glycerine- from Coconut oil, it is used as a sweetener and Humectant. (To keep it moist)
Silica- Occurs widely in nature as sand, quartz and flint. It is used as an abrasive in the toothpaste.
Hamposyl L -95 (Sodium Lauroyl Sarcosinate)- it is a mild-cleansing agent derived from Coconut oil. It is an anti-enzyme cavity fighter and mild foaming agent.
Carrageenan-A natural thickening agent derived from Irish Moss

Grapefruit Seed Extract- is a broad spectrum antimicrobial compound synthesized in a unique process from the seeds and pulp of grapefruits.

The final product is a combination of naturally occurring elements including bioflavinoids, amino acids, fatty acids, phenolic compounds, tocopherols, ascorbic acid and dehydroascorbic acids. It is used as a preservative, as has gained a reputation as being supportive for people with flues, colds and sore throats. It has been recommended by several leading medical doctors/authors for relief of symptoms associated with yeast imbalance, it has a wide array of topical applications.
---
VITA-MYR Mouthwash

VTM01- 16oz


FOLIC ACID
is important to DNA synthesis and consequently, cell reproduction. It is also known that folic acid reduces gum inflammation and bleeding, as well as binding to toxins secreted by bacteria in plaque.
ZINC functions in the mouth and gums include stabilization of membranes, antioxidant activity. collagen synthesis, inhibition of plaque growth, inhibition of mast cell release of histamine and numerous immune activities. Zinc is also known to be important to cell reproduction and to reduce wound healing time significantly. Zinc is also known to have antibacterial properties.
There are also a variety of herbal supplements that are known to promote immunity and have anti-inflammatory and antibacterial properties, while we could have used several different herbal supplements, we preferred to use Myrrh oil and clove oil. The essential oils used in the manufacture of VITA-MYR, are not processed with benzene.

MYRRH oil is known to relieve inflamed mouth and throat tissues, is useful in binding toxins, and tightening gum tissue. In addition, myrrh is known in the art to kill bacteria and stimulate the activity of white cells. Further, myrrh has a pleasant aroma which can help control bad breath odors.
CLOVE oil is known to have antibacterial and anti-inflammatory properties. Its soothing effect on sore gum tissue, due to the eugenol that is contained in the clove oil, has long been known. Also, like myrrh, clove oil has a pleasant aroma, which can control bad breath odors.
DISTILLED WATER because of the known negative side effects of using alcohol based mouthwashes, VITA-MYR mouthwash preferably includes distilled water rather than alcohol.