ZEOLITE
---
Select A Product :
---
---
What is zeolite & how does it work?

Zeolites are a group of minerals that were formed when molten lava from ancient volcanoes mixed with sea water. For centuries, the powdered forms of specific zeolites have been used as traditional remedies throughout Asia to promote overall health and well being. The story of the "volcanic rocks" has been passed down from generation-to-generation as more and more people have experienced its life-changing benefits. Zeolites are natural volcanic minerals with an unique, complex crystalline structure. Their honeycomb framework of cavities and channels (like cages) works at the cellular level, trapping heavy metals and toxins. In fact, because they are one of the few negatively charged minerals in nature, zeolites act as magnets drawing toxins to it, capturing them in its cage and removing them from the body. In addition to removing heavy metals, toxins, and other compounds from the body, they have been shown to balance the body's pH levels, and support a healthy immune system. The U.S. Food and Drug Association, FDA, has given zeolites a G.R.A.S. rating (Generally Recognized As Safe).

Activated liquid zeolite is a food supplement used primarily to remove heavy metals and other toxins efficiently and safely from the body, and to increase general immunity and well-being. Liquid zeolite is extremely safe and is completely eliminated from the body within 5 to 7 hours.

We live in a toxic world...
There are numerous, on-going sources of toxins:
Pesticides on our fruits and vegetables
Growth hormones in our livestock
Off-gassing (that smell of new carpet)
Antibiotics & other medications
Cleaning agents & cosmetics
Lead in our tap water
Mercury in our teeth
Airborne pollutants
Food preservatives

Why use Zeolite ?

1. Zeolites have been shown to remove toxic heavy metals such as mercury, cadmium, arsenic, and lead from the human body.
2. Research has shown that zeolites may have an antiviral effect as it traps viral particles within its porous cell structure and removes them from the body.
3. Zeolite is taken as a safe, natural preventative to lower the risk of cold and flu infections.
4. Zeolite has been shown to help balance pH levels in the body.
5. It helps to lower the risk of acid reflux, as it traps excess protons in the digestive tract.
6. It has been shown to improve nutrient absorption in the digestive tract.
7. It is used to support a healthy immune system by removing toxins and chemicals.
8. It tends to trap allergens from the blood steam and digestive tract.
9. It has the tendency to stop diarrhea, because of its absorptive effects in the digestive system.
10. It has been shown to have amazing results in the treatment of many life-threatening and debilitating diseases.

Recommended Dosage:

1/2 teaspoon in the morning and 1/2 teaspoon at night, preferably on an empty stomach. May be mixed with water. Drink a lot of water while taking Zeolite to avoid dehydration.

(All information taken from http://www.zeoliteinfo.com)
---
---
ZEOLITE
50% Chabazite, 50% Clinoptilolite
temporarily unavailable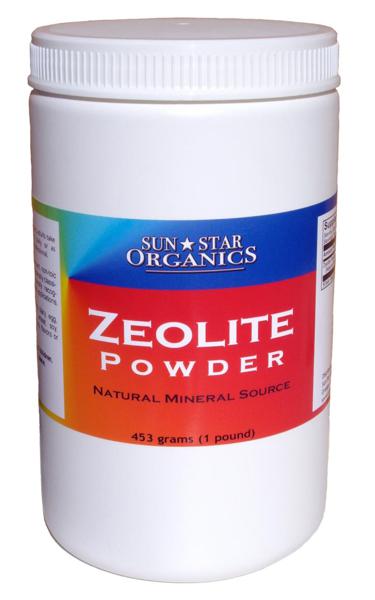 ZEL01 - Zeolite Bulk Powder (1 lb)
"The Exclusive Proprietary Formula Developed by Dr. Bernd Friedlander"
Our own powdered Zeolite from the same source MDs use for zeolite supplementation. One 420 gram container allows you to take 2 heaping teaspoons (14 grams) of zeolite daily for a month. You get 175 times more zeolite in a container of the powder than you do in a bottle of the liquid. So as good as the liquid is, the powder is a better value. For normal supplementation, take half a teaspoon twice a day mixed in juice or water. Double for more serious supplementation, or increase as desired.

CAUTION: DO NOT Use "LOW GRADE" ZEOLITE

When looking for Zeolite it's VERY IMPORTANT to purchase high quality Zeolite that has been cleaned out and is 100% pure and safe to use. Because zeolite has proven to be a very beneficial mineral there are

Many companies are attempting to produce their own forms of zeolite right now. However, DO NOT be fooled by these cheap imitations, make sure you are purchasing a quality product or you could end up ingesting toxins.
---
---
Z LIFE ZEOLITE
SURVIVAL FOOD
Go to the main Z Life Zeolite Page

temporarily unavailable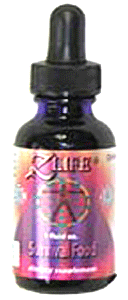 GLC05 - 1 oz

Combining zeolite with humic acid to deliver a powerful natural chelating, pH balancing, immune supporting & remineralizing vitality supplement.

What is Z LIFE?

Z LIFE is the only organic zeolite delivered in a bed of humic acid. Through proprietary advanced technology the humic molecule ingested the zeolite mineral birthing a highly stable and potent survival food.

What might I experience by using it?
Depending on your overall health, your experience of Z LIFE will vary. For some, it is a subtle change of a general sense of well being. If your body is toxic to any degree, you may have some reactions such as a strong body odor on the skin and breath, outbreaks on the skin, a rash, darker stools and a strong urine odor. You may also get a headache or experience aches in muscles or joints - especially if you have not been drinking at least 8 glasses of water a day, which is important to assist in the elimination process to remove the toxins that may have been laying dormant in "pockets" throughout the body. If any of these symptoms appear, they are generally temporary. You may choose to cut back on the dosage and regulate the detoxification process. It is important to recognize that the detox process can continue over many months and that it is not necessary to "push" the body's process - consistency is more valuable to support clearing the body of the unwanted stress of a toxic internal environment.

What is the humic acid in Z LIFE?
Humic Acids are biological compounds created by Mother Earth. We call it "mother's milk from the earth." These composites were originally deposited by pristine, ancient forests and compacted and transformed over millions of years, waiting to be extracted for our use today.
The roots of humic acid originate in early Native American traditions. Combining modern technological advances with this divine gift from nature results in this miraculous organic product that is the richest source of 100% bioavailable micro and macro mineral nutrients. The pH factor of Z LIFE reads at an impressive 7.4 to 8.
Humic substances are the link between the living and the nonliving in nature. They were orchestrated by Mother Nature to bridge this gap. Furthermore, humic acids are able to beneficially influence and guide living organisms in various, unique stages of their life and growth.
When the proper amounts of humic substances are dissolved in water, the water takes on a new form, becoming molecularly restructured. Specifically, humic acids cause water to form pyramid shaped molecules (tetrahedrons) that possess valuable, proven medicinal properties.

---
---