Select a Product:
---
---
HERBAL EROTICA
FOR MEN & WOMEN
BY HEALING LIGHT

HERBAL EROTICA FOR MEN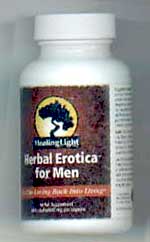 HET01 - 60 caps
Formulated exclusively for a man's system

Designed to enhance arousal,performance, and endurance.
Balanced for safe, gentle and effective action
A note from Phil Wilson
Owner of Momentum98


Herbal Erotica for Men has been used with enormous success by those who wish to improve their enjoyment of sex. Beginning around age 40, men can often feel a decrease in sexual ability and libido. Of course, prescription drugs have been developed to help these issues. However, we feel any of the success they might achieve has harsh and jarring consequences in the body, often accompanied by serious and questionable side effects.

At Healing Light has developed an herbal formula that can help the body regain its natural function. Among the men who use herbal erotic, most report stronger and longer-lasting erectile function, and an increase in stamina and staying power. In addition, their other balancing ingredients have an ongoing tonifying effect on the immune system, heart, bones, energy and healing functions.

Also check out this traditional Turkish Product:

Go to the main Sultan's Paste Page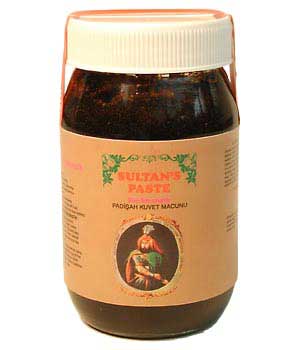 SUL01 - 16 oz
INGREDIENTS
Yohimbe - increase blood flow to the genitals, and approved by the FDA for treatment of impotence.
Panax Ginseng - shown to increase sperm formation and promote the growth of the testes, panax ginseng has been used worldwide for centuries to increase sexual activity, fight fatigue, increase energy and reduce stress.
Tribulus Terrestris - shown in studies to increase libido, improve strength and duration of the erection, and increase testosterone levels.
Epimedium (also known as horny goat weed) - shown to increase blood flow to the penis, and increase sperm count and semen density, and one of the most potent aphrodisiacs on earth.
Deer Velvet - traditionally regarded by Chinese physicians as the most efficacious aphrodisiac, it helps in the production of nitric oxide, essential for erections.
Muira Puama - a shrub native to Brazil that has long been used as a powerful aphrodisiac and nerve stimulant in South American herbal medicine.
Damiana - renowned for its sexual enhancing qualities and its positive effect on the reproductive organs.
Astragulus - stimulated virtually every phase of immune system activity.
Saw Palmetto - strengthens the male reproduction system and boosts male sex hormones.
Seven other herbs - they round out and balance the formula for optimum results. Among these are: Motherwort (known for helping the heart), asparagus root, lycium berries, dendrobium leaf, pippali dried extract, jujube seed, and rehmannia root (dried and extract). Rehmannia has many beneficial health properties.
---
---
HERBAL EROTICA FOR WOMEN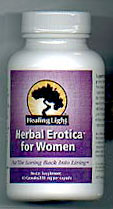 HET02 - 60 caps

Formulated exclusively for a woman's system

Designed to enhance sensitivity and desire.
Balanced for safe, gentle and effective action.



---

Eroxil for Men
by Bell Lifestyle Products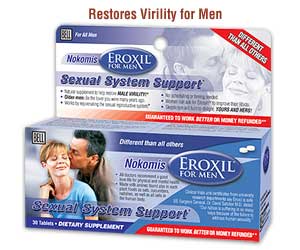 BLL01

Eroxil™ For Men
30 tablets



Eroxil™ For Men


At last! A unique, naturally-based product that addresses the cause, not the symptoms like drugs,
of male sexual dysfunction. The result of years of extensive research, Eroxil™ works with the body's own natural
processes to help rejuvenate the entire sexual reproductive system – sperm production, libido, performance.
And without the side effects normally associated with drugs.

Eroxil™ should be taken on a regular basis, one tablet a day. Most men will notice a visible difference

within just a few days. But because Eroxil™ works within the 90 day sperm production cycle to regenerate cell growth,

others may require several weeks to achieve their goals. Once the desired level of performance is attained, only a maintenance

dose is necessary.

Nokomis products are completely different

from other natural products in this field. They are in a class by themselves.

Most men and women are delighted with their newfound sexual health, see dozens of full length true testimonials giving

full names and towns. Many people wrote us saying that none of the other natural products they've tried worked in

a useful way, such as Ginseng, Muira Puama, Yohimbe, Guarana, Damiana, Punctervine (also called Tribulus Terrestris),

Avena Satina, L-Arginine and many others. Some of these may work a little bit. However, what good is a little bit of an erection?
---
Erosyn for Women
by Bell Lifestyle Products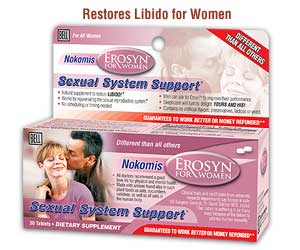 BLL02

Erosyn™ For Women
30 tablets


The only product that works for women in a useful way...

For men, the major problem is sexual performance. For women, it's desire. For years, women have searched the market place for a product that can enhance their libido and increase their overall interest in sex to no avail. We receive many calls from stores saying they have women coming in asking for help, some are only in their 30's. Although there are numerous drugs on the market for men, nothing has been developed that effectively addresses the sexual needs of women. Until now.
Until Erosyn™.

Erosyn™ is an effective and safe product that not only helps increase a woman's libido, naturally, but also works as an analgesic and anti-inflammatory, helping to reduce the pain and inflammation of such female disorders as endometriosis. Erosyn™ works so well, that it comes with a guarantee. Recommended to be taken regularly.

Lack of interest (libido) to make love is the main difficulty for most women when they are over 30, especially if there is too much stress in their lives from having a full time job and a household to look after. If there are children, the work load may double again. By bed time they may be too exhausted to have anything on their mind other than sleep.
Smart husbands help their wives with the household work and can expect to get more attention from their wives.
As you can see from the examples on this sheet, libido can be regained in most cases with Erosyn™.
Some may notice a change within days and others may need a few weeks or the full cycle of 90 days.
All cells in our body renew in a 54-64 day cycle.
---
---