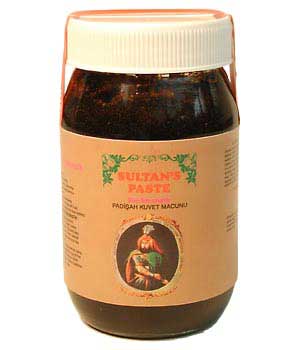 SUL01 - 16 oz
Increases desire
Restores strength and energy
Eliminates exhaustion, tiredness, insomnia
Increases mental clarity
Promotes a general sense of well-being
Prevents sexual inefficiency and provides self-trust


Sultan's Paste is a thick, pungent, honey based
ancient Turkish concoction containing 41 quality herbs and seeds.
It was originally formulated over 700 years ago for the Sultan of the Ottoman Empire.
The thick honey blend dissolves into water,
and makes a very tasty drink.
100% natural
May be taken without worry.
Non-addictive and has no side effects.


A note from Phil Wilson
Owner of Momentum98
We have been selling Sultan's Paste for about 10 years and have had people call us from all over the world so thankful that we have it!
Directions:

Mix contents in jar thoroughly before using.
Take 1 teaspoon of Paste and dissolve in cup of hot water (4-6 oz water)
Stir constantly as you drink.
Take on empty stomach in morning or before bedtime.
Enjoy !
Store in Cool Place.
41 Ingredients:

Piper longum, ginger, clove, rhizoma galangae, fructus cubebae, cortex cinchonae, cinnamon, anise, fructus pimentae, mustard seed, nigella seed, coconut, turmeric, cardamom, senna, fennel, fenugreek seed, radish seed, pvrethri radix, udihindi, coriander, fructus cassiae fistulae, myrobalan, carrot seed, rhizoma, licorice roots, carob bean, celery seed, styrax liquidus, macis, lignum quassiae, ambra grisea, mastich, saffron, nettles, orange skin, pollen, honey, vanilla, terminacia chebula, grape molasses.
---
---
CHAVANAPRASH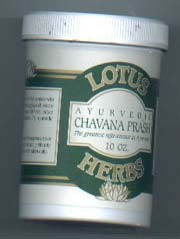 LOT01 - 5 oz
LOT02 - 10 oz
The Ayurvedic Energy Food...

This is an all natural Vitamin C rich fruit compote with 20 classical Ayurvedic herbs which restores body harmony, enhances life force, reduces fatigue and aids in meditation. It has been called the Ayurvedic Energy Food. Chavanaprash means Rejuvenating Food for Kings.
A note from Phil Wilson
Owner of Momentum98
Chavanaprash is India's version of Sultan's Paste.We carry this brand of Chavanaprash because we like it the best. There no refined sugar, as in other brands.

Go to the main Lotus Herbs page
Directions:

Take one level teaspoon once or twice a day on an empty stomach.
Some people recommend to follow it with milk.
Best when taken twice daily !

Ingredients:

Amla, Dashmula (10 roots), Astavarga, Bamboo, Cardamom, Long Pepper, Nagkesar, Sesame oil, Ghee, Honey.
---
---
INTERNET SPECIAL
DISCOUNTS ON SULTAN'S PASTE & CHAVANAPRASH
* WE MATCH PRICES *
---